Conte refuses to quit despite increasing Spurs pressure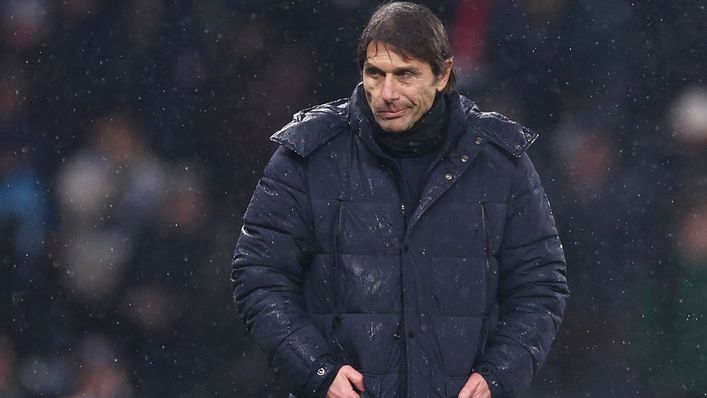 Antonio Conte says he is happy to stay on as Tottenham boss following his side's bitterly disappointing Champions League exit to AC Milan.
Spurs went down 1-0 on aggregate after a second-leg stalemate in North London, with home fans expressing their fury towards the Italian coach at the full-time whistle.
Having also crashed out of the FA Cup to Championship side Sheffield United a week ago, 2022-23 will be yet another trophyless campaign for Spurs and their top-four spot is also under huge threat.
There has been increasing speculation over the 53-year-old's future but in his post-match press conference, there were no signs of an imminent exit.
Conte said: "This is not the right day to talk about my future, but I have a contract with Tottenham.
"Tottenham know very well my thoughts. At the end of the season, we will meet and then we will make a decision.
"I think the situation is really clear. One year and three months since I started to be the coach of Tottenham and I always say the same thing — we need to have time and patience.
"At this time, we don't have a solid foundation to be competitive and to win, in my opinion.
"We try to work and understand who are the right players to create that foundation and improve the team. But at the moment, the club knows very well what are my thoughts.
"I have a great relationship with my chairman and Fabio Paratici. But it doesn't mean I don't tell them what is my vision."
Incomparable exits
Though the former Chelsea boss confessed he was disappointed to exit Europe's premier competition, he reaffirmed his belief that Spurs were heading in the right direction.
Conte also urged the club's supporters to not compare the Milan loss with their embarrassing cup defeat to the Blades, which he said was considerably more frustrating.
He explained: "I think we've made a step forward from last season. Last season we ended up in the Conference League and lost games to teams like Vitesse and Pacos Ferreira.
"This year we made the Champions League knockouts and lost to a team who, we shouldn't forget this, won Serie A last season.
"The FA Cup game was really bad, really really bad. The players know very well that we missed a big chance to fight for a trophy then.
"Today, I think in this type of game, there is a big difference in the opponent.
"We are talking about a big team with big history. A great team. We cannot do comparisons about these two defeats.
"It is not easy but at the same time, we have to continue to work. I'm really sorry to the fans but we cannot invent a win that in one day, a trophy goes into our training ground.
"We have to build. We have to have patience.
"I understand it for the fans, they don't have patience because for a long time Tottenham is not winning but what I can promise is that we will work really hard for this club."
Conte and Spurs must now bounce back quickly from this damaging defeat, with Nottingham Forest visiting North London in the Premier League this Saturday.
Tags