Verstappen revels in Jeddah recovery as Red Bull boss Horner hails Perez's best race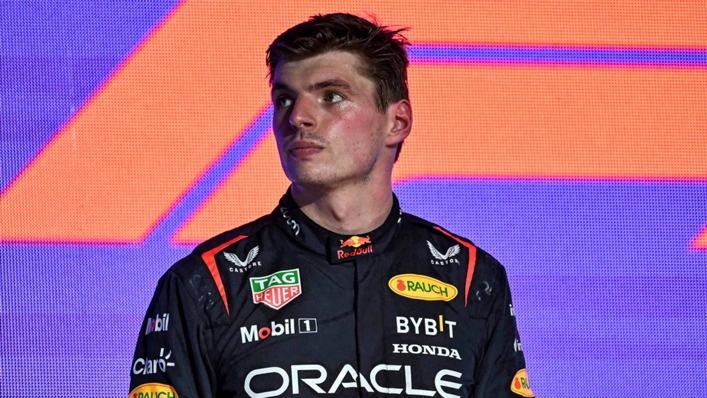 Max Verstappen revelled in his impressive recovery at the Saudi Arabian Grand Prix while Christian Horner lavished Sergio Perez's "best ever race".
Perez claimed a fifth race win of his Formula One career on Sunday, bouncing back after briefly losing the lead to Aston Martin's Fernando Alonso early on.
Red Bull team-mate Verstappen had plenty of work to do – starting in 15th after dropping out in Q2 on Saturday due to a mechanical failure – but he charged through the field to make the podium.
Verstappen, who reported an issue with his car with around 12 laps remaining, also retained his place at the top of the drivers' standings by recording the race's fastest lap right at the death, leaving the two-time reigning champion to reflect on a satisfying outing.
"It wasn't very easy to get through the field, through the first sector it was very difficult – a lot of sliding around," Verstappen told Sky Sports.
"Once I cleared them one by one, we got into a good rhythm, and of course I'm very happy to be here on the podium.
"I was second and we had a big gap behind us, so at one point we decided to call it a day and settle for second, which I think was a great recovery anyway so I'm happy with that."
While Verstappen battled his way through the grid, Perez held firm to ensure Red Bull became the first team to win both races and both qualifying sessions in the first two contests of an F1 season.
Perez added: "It turned out to be tougher than I expected. We really did a good job in the first stint, that safety car tried to take it away from us.
"I was after the victory last year and finally I got it. The team did a fantastic job, they worked so hard during the week, we had a lot of mechanical issues, so I'm really happy for them.
"We will keep pushing hard. The important thing is we were the fastest car out there today. We're very pleased with that."
Horner rated Perez's display as his best in F1, telling Sky Sports: "The team – all credit to them – have built an incredible car.
"We've got a great car and two great drivers. What we saw today [was] two drivers pushing each other. Max coming through from 15th on the grid… by half distance, he was already in P4!
"Checo, I think that was his best ever race, managing the pace and the restart... those guys were going absolutely flat out.
"They were both pushing hard and Max got the fastest lap of the race, but what a weekend for him. He was patient, he picked the cars off, it was a phenomenal recovery from him."
Tags