Hamilton apologises to Piastri after Italian Grand Prix collision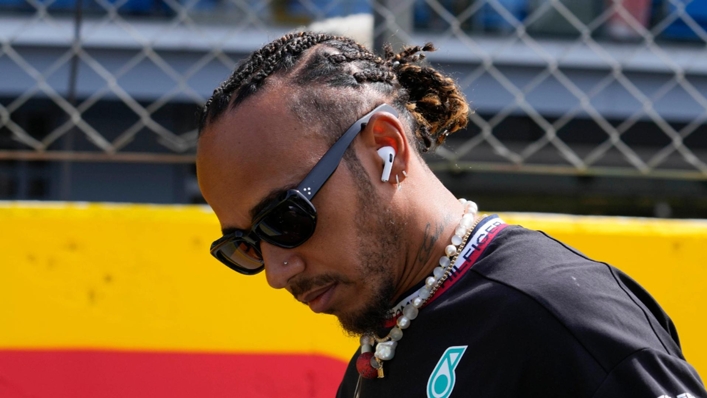 Lewis Hamilton apologised to Oscar Piastri after he admitted he was "totally at fault" for his collision with the McLaren rookie in Sunday's Italian Grand Prix.
Hamilton was hit with a five-second penalty for the coming together at the Variante della Roggia as the two drivers duelled for eighth on lap 41 of 51 in Monza.
Hamilton improved to sixth and was able to pull out a seven-second margin on Williams' Alex Albon to ensure the sanction had no impact on his result.
However, Piastri, 22, suffered front-wing damage and was forced to stop for repairs, dropping him out of the points. "He just turned across me under braking," said Piastri on the radio.
Hamilton, who was also hit with two penalty points on his driver's licence, doubling his total to four, went over to Piastri to concede his error at the chequered flag.
"It was totally my fault," said Hamilton, 38. "It actually wasn't intentional. I went and apologised to him straight afterwards.
"I got up alongside him and just misjudged the gap I had to the right and clipped him. It could happen at any time.
"I knew shortly afterwards it must have been my fault and I wanted to make sure he knew it wasn't intentional. That's what gentleman do."
Hamilton's Mercedes boss Toto Wolff had no complaints with the stewards' verdict and praised his superstar driver for taking accountability.
"That was Lewis' mistake," said Wolff. "I think a five-second penalty for that is what the menu says. These things happen, you know. It's hard racing and we've seen a few of these. It's justifiable.
"Lewis is very sportsmanlike on these things. And he is the only one that I see out there admitting things that he did wrong.
"We just had a chat and he said 'I didn't see him on the right and that is on me.' And I think that kind of sportsmanship is what you need to admire with him. Pretty much everyone else is complaining and moaning to try to avoid getting a penalty."