Hill unimpressed by Wolff's dismissal of Verstappen's record win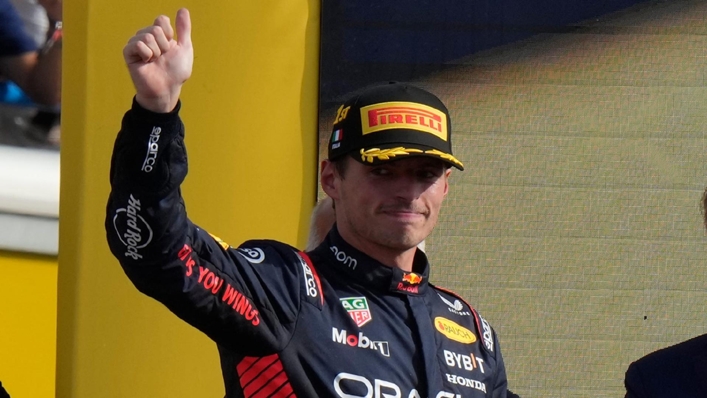 Damon Hill has described Toto Wolff's dismissal of Max Verstappen's record winning streak as "churlish" and "ungracious".
Red Bull's Verstappen became the first driver in Formula One's 73-year history to win 10 consecutive races following his triumph at the Italian Grand Prix on Sunday.
But moments after Verstappen drove into the record books, Mercedes team principal Wolff called the Dutchman's unprecedented run of victories "completely irrelevant". He added that the record was only "for Wikipedia, and nobody reads that anyway".
Responding to Wolff's unflattering appraisal, 1996 world champion Hill said: "It sounded a bit churlish and not very gracious.
"It's unlike Toto because he's usually very sporting. But he is hurting a bit now. They know what it is like to be dominant and they didn't even get on the podium in Monza.
"They seem to be a bit stymied and can't seem to work out what to do. But who can? It seems like everywhere we go, Red Bull has got the upper hand."
George Russell and Lewis Hamilton crossed the line a distant fifth and sixth respectively for Mercedes at Monza's Cathedral of Speed.
Hamilton, who was hit with a five-second penalty for colliding with Australian rookie Oscar Piastri, finished 42 sec behind Verstappen.
The seven-time world champion, who last week committed to a new two-year deal with Mercedes, worth £100million, has now gone 37 races without a victory.
For Verstappen, now a victor at 12 of the 14 rounds so far, he has not lost a race since the Azerbaijan Grand Prix on April 30, 127 days ago. There is an outside chance he could wrap up a hat-trick of titles in Japan on September 24 with six rounds still to race.
Verstappen's Red Bull team also remain on course to make history by going the year unbeaten.
Speaking on Sky Sports News, Hill, 62, continued: "Max has achieved something no-one else has ever done.
"Red Bull have won 14 races this year and it is an incredible record, but you can't just put it down to the car.
"This guy is special. Throughout Max's career, from the moment he arrived in F1, he has done things no-one has done before and he continues to polish off this season."