Scheckter: 'Dominant' Verstappen can win eight Formula One world titles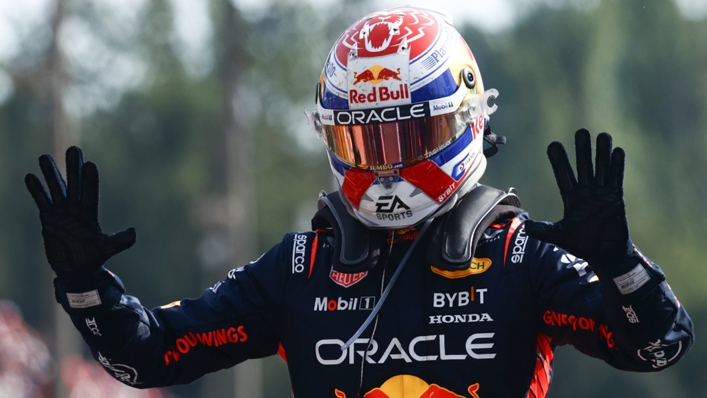 Max Verstappen can cement his place in the Formula One record books by surpassing Michael Schumacher and Lewis Hamilton, so says Jody Scheckter.
Red Bull driver Verstappen broke another record with his victory at the Italian Grand Prix, tallying up a tenth straight race victory, overtaking Sebastian Vettel's previous best of nine.
Verstappen extended his lead in the drivers' championship standings to 145 points and looks on course to win his third title in a row - having triumphed in 2021 and 2022 - and Scheckter sees no reason why the Dutchman's run will end here.
"It really depends on the cars, to a large extent. There's no question he's good enough but has he always got the winning car," he told Stats Perform.
"To think Lewis [Hamilton] had a dominant car for a long period of time, not to take anything away from him. I also think he's brilliant and smart. You can get in a bad car now and then, doesn't matter how good you are, you're not going to be winning.
"Right now, he's got the car to win. Granted, you can't put anything against it. If he has this dominance all the time, it could be maybe eight drivers' championships."
Verstappen became the youngest driver in F1 when he made his debut aged 17 at the 2015 Austrian Grand Prix, but Scheckter believes that the 25-year-old has had to refine his technique and tactics on the track to fulfil his championship-winning potential.
"He's obviously quick as anything, but he's aggressive. But he's also smart and comes out on the top in these different very difficult situations. At the beginning, he was too aggressive. But now he seems to get it all together and real championship material," Scheckter added.
"I think at the beginning, when you get into Formula One, you just want to prove that you're faster than everybody and so that's what you do. And then you realise you don't win championships like that.
"You tune yourself and he's a smart guy. So he's got it together now and obviously got the car at the moment to do it."
With Verstappen closing in on his third successive title, it has reignited debate surrounding the competitiveness of F1.
Prior to Verstappen's win in 2021, Hamilton had won six titles in the space of seven years, with Vettel also winning four in a row between 2010 and 2013.
According to Scheckter, who won the drivers' championship in 1979 during a nine-year career in which no F1 rival successfully defended their title, changes should be made to try and level the playing field during this era of Red Bull dominance.
He said: "One thing that frustrates me about are these penalties that they mean they have to go back on the grid, and if the gearbox goes, it just doesn't make any sense to me at all.
"It spoils the spectacle of the racing, you want to see people racing on the track. If he breaks down in practice or qualifying he can't get back up to race. Why?
"Everybody wants to see them racing side by side. Just doesn't make any sense from a spectator's point of view that I can see."