Verstappen's 10 wins in a row 'irrelevant' says Mercedes boss Wolff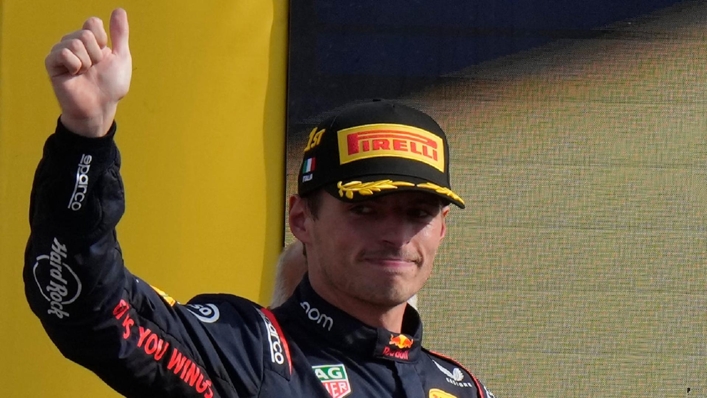 Mercedes boss Toto Wolff called Max Verstappen's drive into the Formula One record books at Sunday's Italian Grand Prix "completely irrelevant" and "for Wikipedia".
Verstappen went behind enemy lines in Ferrari's backyard to fight his way past Carlos Sainz's scarlet car and become the first driver in the sport's 73-year history to win 10 consecutive races.
The Dutchman, now a victor at 12 of the 14 rounds so far, bettered the record he had shared with Sebastian Vettel. Verstappen has not lost a race since the Azerbaijan Grand Prix on April 30, 126 days ago.
Sergio Perez finished runner-up as Red Bull – who remain unbeaten this season – claimed a one-two finish, with pole-sitter Sainz third ahead of team-mate Charles Leclerc. George Russell and Lewis Hamilton finished fifth and sixth for Mercedes.
Hamilton's Mercedes machinery carried him to six world championships in seven seasons, but the British driver was never able to win more than five successive races. The best Michael Schumacher, so dominant in his Ferrari at the turn of the century, could manage was seven.
Yet, despite Verstappen's historic streak, Wolff found it difficult to express praise for Red Bull's star man.
"For me, these kinds of records are completely irrelevant," he said. "They were irrelevant in our good days in Mercedes.
"I don't know how many races we won in a row. I didn't even know that there was a count of how many wins in a row, so if you are asking me to comment on the achievement it is difficult, because it never played a role in my own life until I heard about it yesterday.
"The result itself shows a great driver in a great car, who are competing on an extremely high level."
Wolff then re-iterated his stance on Sky Sports. "It is not something that would be important for me," he said. "Those numbers are for Wikipedia and nobody reads that anyway."
Wolff's lacklustre appraisal came after Hamilton devalued the strength of Verstappen's team-mates in an interview on Italian television on Thursday. Verstappen responded in the Dutch media by suggesting Hamilton was "jealous" of his current success.
Hamilton was then asked about Verstappen's record-breaking run after Sunday's 51-lap race.
"I had strong team-mates," he replied. "Valtteri (Bottas) was quick a lot of times. I don't care about statistics in general. Good for him."
Since he claimed his maiden title at the controversial season-ending Abu Dhabi race in 2021 – denying Hamilton a record eighth championship – Verstappen has won 27 of the 36 races staged. In his last 25 appearances, Verstappen has failed to win just four times.
"What Max is doing is breaking records and driving at an unbelievable level," said Red Bull team principal Christian Horner.
"I don't think there is anybody in the world at the moment that can beat Max Verstappen in this car, that's for sure.
"You have to recognise and applaud what Max is doing. It is very special to achieve what he has achieved and we shouldn't detract from that in any way.
"In sport it is very rare that something like this happens and it is a golden moment for him and certainly a golden moment for the team."
Verstappen was made to wait 14 laps and a handful of corners before he assumed the lead of Sunday's race at the Variante della Roggia. From there, he never looked back to seal another crushing win and move 145 points clear in the standings.
There remains an outside chance he could be crowned champion of the world for a third time as early as the Japanese Grand Prix in three weeks with half-a-dozen rounds still remaining.
"I never would have believed that it was possible," said Verstappen after his record triumph. "But we had to work for it today and that definitely made it a lot more fun."