Former F1 champ Scheckter says Hamilton ranks alongside Schumacher despite recent struggles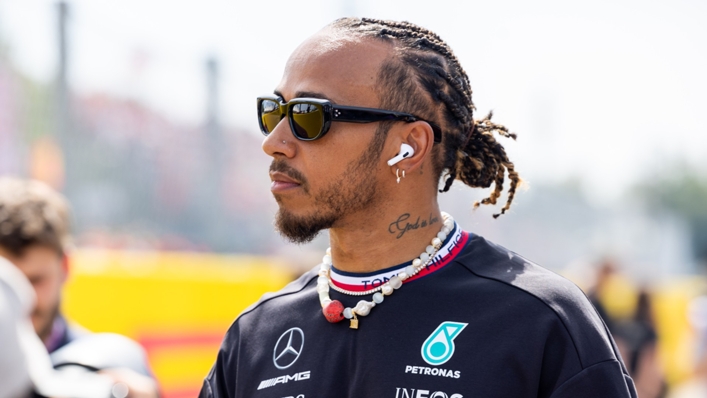 Jody Scheckter does not believe Lewis Hamilton's recent struggles will impact his Formula 1 legacy, insisting he will be remembered alongside Michael Schumacher as an all-time great.
Hamilton equalled Schumacher's record of seven drivers' championship titles in 2020, but he has failed to surpass the German icon's tally due to the dominance of Max Verstappen.
Having captured the title in controversial circumstances in 2021 and defended it last year, Verstappen has now won 10 successive races to close in on a third championship, which he could seal as early as the Japanese Grand Prix later this month.
Hamilton, meanwhile, sits fourth in the drivers' standings amid another difficult campaign, which has been plagued by suggestions he could soon walk away from the sport.
However, Hamilton opted to extend his F1 career until at least 2025 by penning a new contract with Mercedes last week, and Scheckter is pleased to see him still enjoying his time on the grid.
"I retired at 30 years old. He wants to carry on," the 1979 world champion told Stats Perform. "That's such a personal decision. He's got to do what he wants to do, if he's enjoying it.
"He's doing a good job, too. I thought [team-mate George] Russell would be quicker. But you know, Lewis is quick, he's doing a good job.
"If he gets a team-mate that beats him all the time… it's going to come, there's no question about it, it will come sooner or later. But people will still remember.
"You can't win that many world championships and not be recognised as an all-time great.
"Some people get off at the wrong time, they carry on and want to hold onto it until they lose that, and people forget some of the other stuff that happened before."
Asked how Hamilton's achievements compare to those of Schumacher, the former Ferrari driver added: "I put them all in the same category. You know, there's the car there.
"I think Lewis was a cleaner driver than Schumacher. In his tactics and stuff, he was more like a gentleman on the track than Schumacher was, so I commend him for that."
Sitting above Hamilton in the 2023 standings is his former McLaren team-mate and long-term rival Fernando Alonso, with the 42-year-old enjoying something of a renaissance with Aston Martin.
Alonso has racked up seven podium finishes in 2023 after finishing ninth in the drivers' championship while representing Alpine last year, and though Scheckter has not always been the Spaniard's biggest fan, he respects his longevity.
Reflecting on his own decision to retire in 1980, just one year after being crowned world champion, Scheckter said: "Some people say they enjoy it. I used to say if I'm enjoying it, I'm not trying hard enough.
"But if you're enjoying it, you're going to carry on longer and longer, you know? Maybe I pushed too hard to try and do it, so it's just a personal thing.
"Fernando's obviously very good. I didn't like some of the stuff he did earlier in his career, I didn't like it very much at all, actually.
"But he's good, he's aggressive. I don't think he's as good as some of the press think he is, but he's doing a good job. Now, he's doing a really great job."