Thoughts of victory far from Alonso's mind despite front-row start
Nicholas McGee
Stats Perform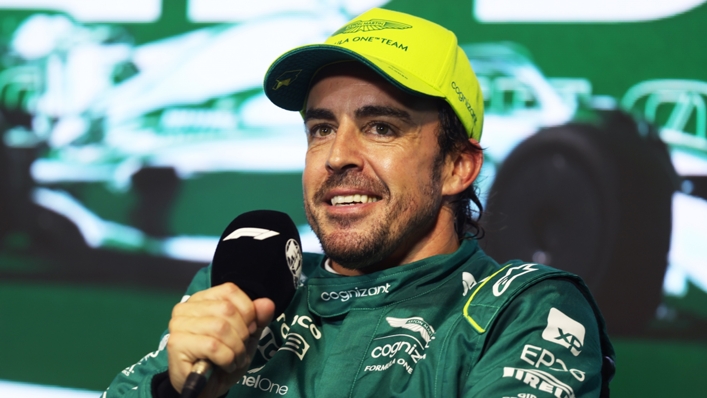 Fernando Alonso will occupy the front row of the grid for the Saudi Arabian Grand Prix but is not harbouring dreams of a first victory since the 2013 Spanish Grand Prix.
Alonso and Aston Martin continued their strong start to the season as the Spaniard qualified third in Jeddah behind Red Bull's Sergio Perez and the Ferrari of Charles Leclerc after defending world champion Max Verstappen failed to make it out of Q2 because of a driveshaft issue.
Leclerc's 10-place grid penalty will see him start 12th, promoting Alonso to his first front row start since last season's Canadian Grand Prix for Alpine.
Alonso endured a disappointing race on that occasion, finishing ninth.
Though Alonso is confident of greater fortune in the Aston Martin on Sunday, the two-time world champion does not believe he can challenge Perez for victory and anticipates eventually being caught by Verstappen, who will start 15th.
"I don't know. I think we are not in that position yet," the 41-year-old said when asked if he felt he could beat Perez. "I think on pure pace, I think Red Bull is in another league. And I think we have to concentrate more on the teams behind.
"So Ferrari will be very strong. Mercedes, they are strong, and also Alpine, they are fast here. So I think our race is just behind us. We saw today, Max probably was in his league today in qualifying and he could not complete the qualifying with a mechanical issue apparently, so we will try to take the opportunity for sure.
"I don't want to sound pessimistic but if we see the pace the whole weekend in free practice, we see the Bahrain race, we have to be honest with ourselves and know that Red Bull is a little bit ahead of everyone. So that's not, let's say, the target tomorrow, you know, to fight for the win with Checo.
"But as I said before, Formula One is not exact mathematics, you know, anything can happen and today no one of us will put Verstappen P15, but these things happen sometimes.
"So, for us, the most important thing is to score points. We are starting both cars in the top five. We try to finish both cars in the top five and keep accumulating points for the constructors' championship. That's the main goal for Aston Martin this year.
"I think Max will come eventually in the race. They have this advantage. I don't know which race it was last year that he started last, so he changed the power unit and still finished P2 or even won the race. So, I think tomorrow, there is no doubt that he will be in the podium, probably, minimum."
Verstappen won from 10th in Hungary last season and 14th in Belgium, results that underlined his dominance once Leclerc's title challenge dissipated, and he is not giving up hope of another charge through the field even at a tight circuit where overtaking may prove difficult.
"We now have a bit more work ahead of us tomorrow, but it is what it is," said Verstappen.
"It is a long championship and we will stay positive. I think a win is tricky from that position but I will try to score as many points as possible. It will be hard to get to the front, but we won't give up.
"Anything is possible at this track, we have seen some crazy things here, but we have to be realistic. It will be tough but we have good pace so, for sure, we will move forward."
Tags