Quartararo involved in second collision after crashing out of Aragon Grand Prix
Daniel Lewis
Stats Perform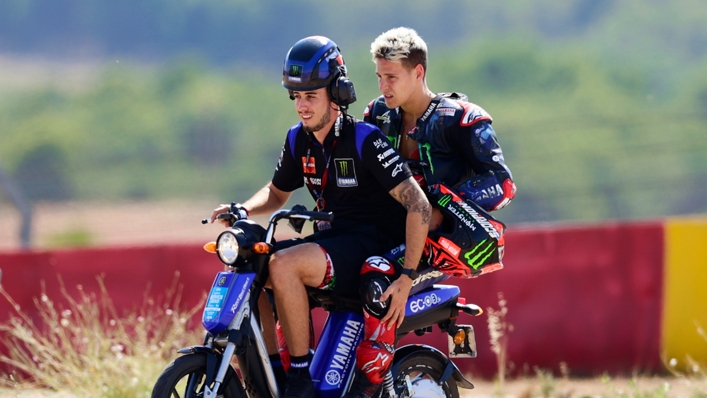 Fabio Quartararo was left feeling "sore and burned" after crashing out of the Aragon Grand Prix – not helped by a second collision involving a scooter.
The MotoGP championship leader hit the rear of Marc Marquez on the exit of turn five on the opening lap in Sunday's action-packed race and slid along the asphalt.
Quartararo, who now has just one podium finish in his past five races, later revealed he was involved in another accident as he made his way to the Yamaha garage.
"After the crash a marshal hit the scooter. I had a second crash. It was quite fast actually," he told reporters. "Luckily I hadn't taken off my helmet.
"But the marshal just hit face to face with another scooter, quite fast. I didn't have any damage from that crash. Everything I have [injury-wise] is from the first crash.
"I'm feeling sore and burned. It's a shame because it's the first time I've felt good in Aragon in many years and crashing in the third corner was not the best."
Stuttering Quartararo's lead over Francesco Bagnaia now stands at just 10 points with five races of a gripping season left to go.
That gap could have been reduced to five points, but Bagnaia was overtaken by Enea Bastianini on turn seven of the final lap as his four-race winning streak came to an end.
"Our race was good; I did my best," Bagnaia said. "Enea did an incredible job. He was very competitive throughout the weekend and I knew he and Fabio were the fastest.
"Fabio unfortunately crashed on the first lap, but in any case I just tried to do my best.
"On the last lap I felt that I wasn't able to overtake Enea again, because I was already taking too many risks in the previous laps. So the 20 points are important."
Gresini rider Bastianini avenged his slim loss at the San Marino Grand Prix two weeks ago by finishing 0.042 seconds ahead of Bagnaia for his fourth victory of the season.
Bastianini, who started third on the grid, said: "It's almost like a dream. I made some mistakes during the race.
"But in the end I ended up approaching [Bagnaia] and on the last lap I had the opportunity to attack, and I managed to win."
Aleix Espargaro held off Jack Miller and Brad Binder to complete the podium, but fellow home favourite Marquez failed to finish in his first competitive race since May.
Marquez also ended Takaaki Nakagami's race and apologised to both the Japanese and Quartararo after the race.
"I lost the rear in turn three and Fabio made contact. When I engaged the holeshot device later in the lap, the bike locked and moved to the left," he said.
"I think that was because there was a piece of Fabio's bike in the rear. It was really unlucky and I want to apologise to both Taka and Fabio."
Tags