Schumacher takes on reserve role at Ferrari alongside Haas seat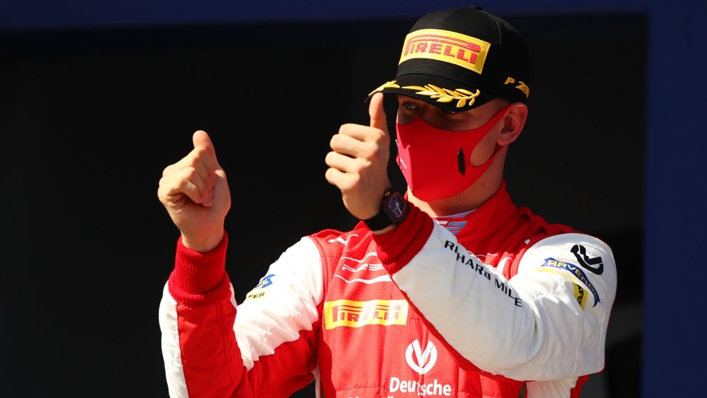 Mick Schumacher could follow his legendary father's footsteps and turn out for Ferrari in Formula One next season after agreeing a part-time role as their reserve driver.
Schumacher, 22, represented Haas in his debut F1 season this year and will do so again in 2022.
But the former Formula Two and Formula Three champion, whose father Michael won seven F1 titles, remains part of the Ferrari Driver Academy.
The Scuderia, where Michael earned five of his championships in consecutive seasons between 2000 and 2004, confirmed on Wednesday the remainder of their 2022 line-up alongside front-line drivers Charles Leclerc and Carlos Sainz.
Antonio Giovinazzi remains Ferrari's reserve option, but he will be absent for 11 races due to his involvement in Formula E.
Should a back-up be required in any of the remaining grands prix, Schumacher would instead step in, with Haas turning to Pietro Fittipaldi, their own reserve.
Both Schumacher and Haas ended 2021 without a point, with his best finish 12th in Hungary, but Ferrari team principal Mattia Binotto still sees a bright future for the son of a true great.
"He's a Ferrari driver, we should not forget that," Binotto said. "He has been part of our Ferrari Driver Academy.
"The reason we have the Ferrari Driver Academy is to identify the next Ferrari driver for the future.
"Being part of it, if you are doing well, no doubt you may have opportunities. He's had already one season in F1, which is important.
"Mick through the season did well; he improved himself not only in terms of consistency but as well in terms of speed.
"If you look at the last races, he was a lot closer to the cars ahead, and Haas didn't develop the car at all. The fact he was closer proved he had a good improvement on the speed itself."