Hamilton hoped for more from Mercedes updates in Monaco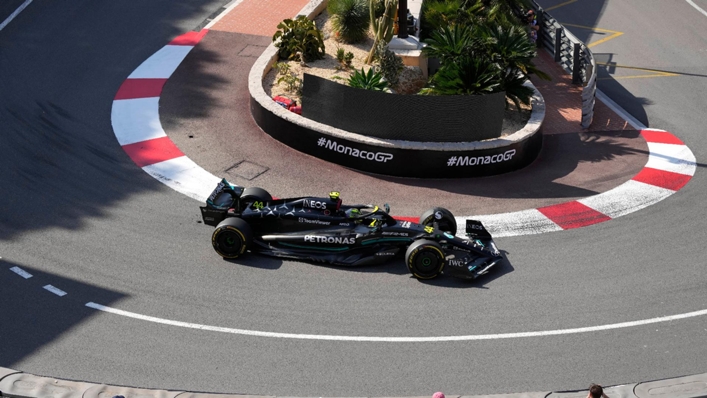 Lewis Hamilton had hoped his revamped Mercedes would have propelled him closer to the front after he finished sixth in practice for Sunday's Monaco Grand Prix.
Hamilton's Mercedes team arrived for the sixth round of the season in the sun-cooked principality armed with a major upgrade.
But after an encouraging start – with Hamilton briefly heading the order in the opening running of the weekend – the British driver ended the day half-a-second behind Max Verstappen, who finished fastest for Red Bull. George Russell was only 12th in the other Mercedes.
"It is a shame we were not as close as I hoped we would be at the end of the session," said Hamilton.
"In P1, I thought, 'Wow, maybe we're looking pretty good', but in P2 we were close to half-a-second off. I don't think we have half a second in the bag.
"We've just got to keep chipping away to see if we can squeeze any more juice out of the cup."
After giving up on this season's car on the eve of the opening race in Bahrain, Mercedes have spent the ensuing dozen weeks working on a new design philosophy.
The Silver Arrows have abandoned their controversial zero-sidepod concept and introduced a new front suspension, new floor and cooling system in a drastic change of development on a car which has contributed to the longest losing streak of Hamilton's career.
On Sunday, it will be 539 days since Hamilton last stood on the top step of the podium at the penultimate round of the contentious 2021 season in Saudi Arabia.
And although Mercedes are keen not to draw too many conclusions at this week's unique Monte Carlo configuration – and believe the following round at the well-trodden Circuit de Catalunya venue on the outskirts of Barcelona will present them with a better understanding of where they stand – the evidence of practice suggests they are no closer to providing a real challenge to Red Bull.
Hamilton added: "It's not really the place to test an upgrade, but the car was generally feeling good.
"It's very clear where the lack of performance is, and we will talk about that in the debrief. Hopefully this gives us a platform to build on moving forwards."
Verstappen and team-mate Sergio Perez are the only men to have won a race this year, but their rapid Red Bull is not necessarily suited to the narrow and slow-speed track in Monaco.
However, despite Perez managing only seventh in practice, Verstappen's pace indicates he could still be the driver to beat.
Home favourite Charles Leclerc is ready to pounce – after he finished just 0.065 seconds back – with his Ferrari team-mate Carlos Sainz, who crashed out of second practice remaining following a mistake at the high-speed swimming pool chicane, third.
Fernando Alonso could be a contender, too. The Aston Martin driver, 41, took fourth spot, 0.220 sec adrift of Verstappen. Lando Norris finished fifth in his McLaren.