Reed shrugs off tree controversy after McIlroy wins Dubai battle
Peter Thompson
Stats Perform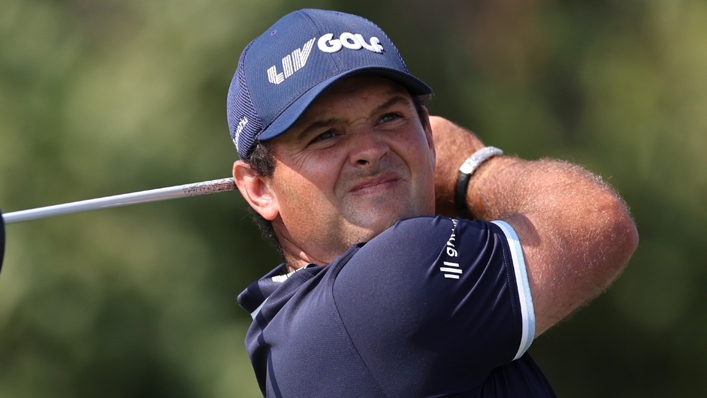 Patrick Reed relished an "epic battle" with Rory McIlroy and shrugged off another controversy by stating "I know who I am" after missing out on a Dubai Desert Classic victory.
Reed has been in the spotlight at Emirates Golf Club after the American threw a tee towards McIlroy, having been snubbed for a handshake following a dispute between the pair.
LIV Golf star Reed was the centre of attention again on Sunday when he took an unplayable penalty drop after his ball got lodged in a tree, with question marks raised over whether it was in fact his ball he had identified by using binoculars.
When the tournament finally came to an end on Monday as a result of poor weather last week, Reed carded a seven-under 65 to ramp up the pressure on McIlroy.
A birdie at the 18th for Reed drew him level with the Northern Irishman at the top of the leaderboard, but McIlroy sunk a putt from 15 feet for a gain of his own to finish on 19 under with a round of 68 and take the title.
McIlroy had put a stray tee shot just short of the water at the last hole, but got himself out of trouble to seal a third Dubai Desert Classic win that he said was all the sweeter given he denied Reed.
Reed said: "I knew what I had to do early. I went out there and I put the pressure on him. Being four back of a guy like Rory is not easy.
"I battled it out, but missed a great opportunity on 15. The only real bad shot I hit was the tee shot on 16 [which resulted in his only bogey of the day]. Ended up behind the tree."
On the subject of trees, Reed was unperturbed over questions being raised about his integrity on Sunday.
"I don't really look at media or social media whenever I'm playing a tournament," he said. "Normally it's always negative, so I try to stay away from it.
"I've heard about it, but really all I can say is that I looked through the binoculars, identified my golf ball and explained what my markings were to the rules official. He looked and he identified [the ball] exactly the same way I did."
He added: "The good thing is I know who I am. All I can do is focus on my golf and focus on me. Felt like I've done that this week. Felt like I played great.
"It always seems to come down to Rory and I. We love to put on a good show. Unfortunately, I was on the wrong end of this one. Hats off to him, he played some great golf, especially on the weekend.
"It would have been even better if both of us were in the same group. But whenever he and I are battling, we have fun and epic battles."
Tags