Sharma sets testing clubhouse target on day two of Horizon Irish Open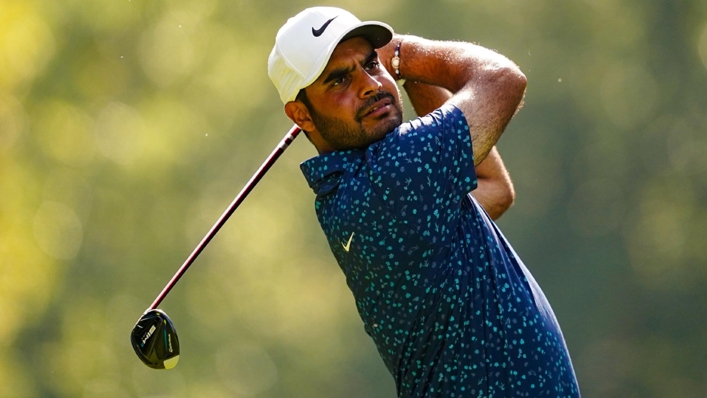 India's Shubhankar Sharma set a daunting clubhouse target on day two of the Horizon Irish Open at The K Club.
Following a 30-minute delay due to early morning fog, overnight leader Sharma raced to the turn in just 28 shots with seven birdies and two pars.
A first bogey of the week on the par-five 10th halted Sharma's momentum and although he bounced back immediately with a birdie on the 11th, the 27-year-old could only cover the last seven holes in one over par.
The resulting 66 gave the two-time DP World Tour winner a halfway total of 13 under par and a four-shot lead over Germany's Freddy Schott, who covered his last 14 holes in nine under par in a superb 64.
"It was a really early morning start for us so I was a bit sleepy but I managed to make a lot of putts on the front nine," Sharma said.
"I had nine single putts which was amazing, I don't think I've done that before. Everything was just flowing nicely, I was hitting it in the right spots and was really good inside 10 feet so it all came together.
"It was still as hot as yesterday, which is quite unusual for Ireland, but I quite like this weather and the greens were better today because we played in the morning.
"There are some tough pin positions but if you're on with your putter there will be low scores out there. I made some changes in the first half of the season but I'm finally seeing the results."
Sharma won his first DP World Tour title in December 2017 and his second just two months later, but has yet to taste victory since and has recorded only two top-10 finishes this season, although the most recent was in the Open Championship at Royal Liverpool.
"I took a four-week break after the Open and was sick last week so spent most of the weekend sleeping on my couch, but I still have good memories from the Open so I am just trying to continue that form," he added.
"I'm obviously very keen on getting back into the winner's circle but it'll happen when it happens.
"I can only control the controllables, have a good positive mindset on the weekend and I'm sure it will happen soon rather than later."