McIlroy recovers from 16th-hole drama to move into contention at Irish Open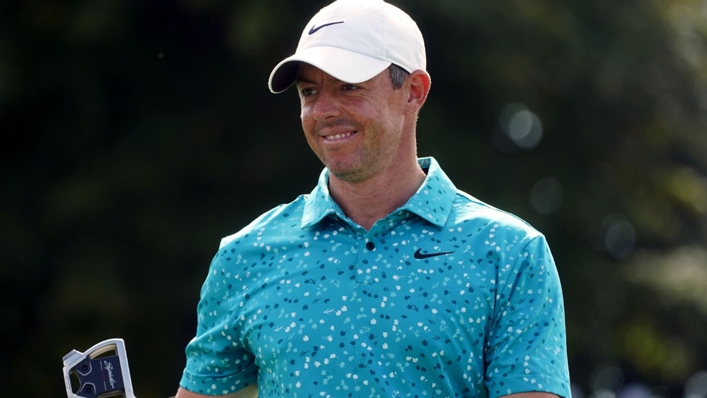 Rory McIlroy overcame a broken club and more drama on the 16th hole to surge into contention for a second Horizon Irish Open title at The K Club.
Eight shots behind at the halfway stage, McIlroy took full advantage of a stuttering display from the leaders to post a third round of 66 to reach 11 under par, two shots behind Germany's Hurly Long.
Long, who is ranked 252nd in the world and without a top-25 finish this season, recorded a 70 to end the day 13 under, a shot ahead of England's Jordan Smith.
The final group of Smith, Shubhankar Sharma and Ross Fisher were a combined nine over par for the front nine and six over par at the finish, Sharma and Fisher dropping into a six-way tie for fourth on 10 under.
McIlroy was already five under for the day when he stood over his second shot to the par-five 16th, where he holed out from 116 yards for an eagle on Friday and which he birdied in 2016 to kickstart his victory push.
It was a completely different story on Saturday, however, the four-time major winner pushing his second shot into the water and seeing his fourth from the drop zone hit a rock on the edge of the hazard but luckily bounce on to the putting surface.
McIlroy narrowly missed the long par attempt but responded superbly with birdies on the 17th and 18th, the latter courtesy of a 346-yard drive and nine-iron approach to the 548-yard par-five.
"To bounce back with the two birdies on 17 and 18 after putting the ball in the water on 16 was huge, so overall a great day's play," McIlroy said.
"I didn't feel like I did anything very special, but it added up to a great score and I've gotten myself a lot closer to the lead when last night (Friday) I thought I was maybe a little bit too far behind and out of it.
"It's hard to try to win your national Open and try to get over the line. I'm excited to have another opportunity.
"I was fortunate enough to do it a few years ago here and having those memories is going to be nice, and also having the support of the crowd out there as well is going to be incredibly helpful."
Asked about the 16th, McIlroy added: "It's one of those holes – just because of the design of it and with my length being able to go for it, it provides a lot of drama.
"I was frustrated that I made bogey and then walking off the green I thought I should be pretty grateful after the fourth shot from the drop zone.
"I didn't play for as much wind as I should have and got incredibly fortunate hitting the rock and going on the green."
McIlroy also revealed he had broken his 3-wood after hitting a poor tee shot on the sixth, admitting: "I went to hit the top of that tee-marker and I caught the corner with the bottom of the shaft.
"It was just a flick. I've done it a couple of times before this week and everything went OK, but that one didn't."
Asked about playing alongside McIlroy in the final group on Sunday, Long joked: "I know he's going to be nervous, but it's exciting.
"Last year at The Belfry (British Masters) I was leading after two rounds and there were ginormous crowds out there as well. I know I can take something from that.
"I've got a good attitude. I know it's going to be way more difficult tomorrow than it was even today, but you can feed off of that just as well. So just looking forward to it either way."
Ireland's Shane Lowry, who was still an amateur when he won the Irish Open in 2009, goes into the last day five shots off the pace after carding two birdies and two bogeys in a 72.
"I'm disappointed," Lowry said. "To be honest I thought the lead was going to be a lot more than it's going to be. I thought the leader was going to be at least 15 under.
"That's what makes it more frustrating. Felt like I had a great chance to go out there and grab this tournament by the scruff of the neck and I didn't do it."