McIlroy vows to take 'sensible' approach to pre-Ryder Cup stag do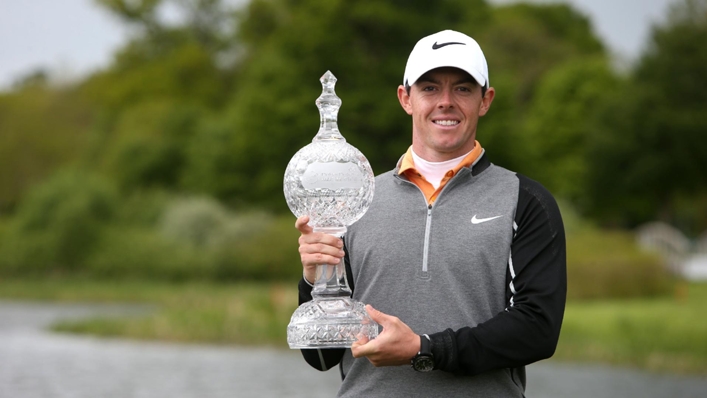 Rory McIlroy has pledged to take a "sensible" approach to a friend's stag do just days before the start of the Ryder Cup.
And the world number two has also assured captain Luke Donald that he is close to full fitness after the back injury which almost forced him to withdraw from the Tour Championship in Atlanta.
McIlroy had previously joked that he would need "a few days to dry out" from his trip to Mykonos before travelling to Rome, where Europe will attempt to regain the Ryder Cup following their record 19-9 defeat at Whistling Straits.
"I'm sensible when I need to be," McIlroy said with a smile in his pre-tournament press conference ahead of the Horizon Irish Open.
"48 hours, nice little trip, and probably needed as well. (I go) from here to practise in Rome next week, to Wentworth.
"I get back into London on Wednesday evening and then four good days in London to practise and get myself ready to go to Rome on the Monday."
Donald also laughed off any concerns, adding: "It's not like Rory is 22 or 21. He understands.
"There's nothing wrong in going out and having some fun with your friends. But I think he's got wise enough shoulders to know that he won't go crazy, so no concerns there."
McIlroy hit just 20 balls before his first round of the Tour Championship after suffering a muscle spasm two days earlier which left him unable to move.
The 34-year-old struggled to an opening round of 70 at East Lake but the injury gradually improved throughout the week and he closed with a 65 to finish in a tie for 11th.
"I would say it's at 90 per cent, 95 per cent," McIlroy said. "I just have to take care of it a little bit but it's not preventing me from doing anything I want to do. Just being a little mindful, I guess.
"I've had much worse. I had much worse back issues when I was 21. This is a bit of tightness, a bit of a muscle spasm. I've had a herniated disc and I've had stuff that would be a lot more worrying than this is. It's fine. It's totally fine."
McIlroy produced a sensational finish to snatch victory from the jaws of defeat the last time The K Club staged the Irish Open in 2016, having seen a three-shot lead turn into a one-shot deficit in the final round.
A stunning approach from 270 yards set up a two-putt birdie on the par-five 16th and McIlroy produced an even better shot to the last, his five-wood from 252 yards finishing within three feet of the hole for a tap-in eagle.
"The two shots I hit on 16 then the two on 18, that's the way you want to try to close out a golf tournament. It was amazing," McIlroy recalled.
"They had set up a sort of bar on the right side of 16 and when my ball hit the green I just remember the roar from over there was pretty cool.
"It was a great finish and for as long as I can remember the only tournament my mum ever wanted to see me win was The Irish Open. So for her to be there and for me to win it, it means a lot to her obviously and a lot to us as a family."
McIlroy has a lead of more than 2,000 points over Jon Rahm at the top of the Race to Dubai, but will take six weeks off between the Ryder Cup and the season-finale in Dubai.
Strong performances in Ireland and next week's BMW PGA Championship would therefore go a long way to securing a fifth money list title, three behind the record of Colin Montgomerie.
"I've got a nice little cushion at the minute but these two weeks are important," McIlroy said.
"I want to play well for a number of reasons. I want to feel like I'm confident and in good form going into the Ryder Cup obviously.
"But yeah, I think it would be a pretty cool achievement to win The Race to Dubai for a fifth time and start creeping up on Monty."