In Focus: Suarez ready to star again in Reds reunion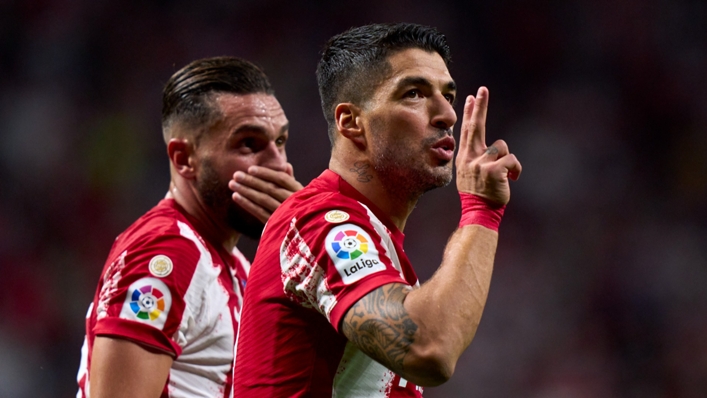 Much water has passed under the bridge since Luis Suarez's majestic spell with Liverpool — but the Uruguayan is anything but a forgotten man at Anfield.
Netting a sensational 82 goals in 133 appearances before his departure for Barcelona in 2014, the dynamic forward remains one of the greatest Reds of the modern era.
With his current club Atletico Madrid welcoming Liverpool to the Wanda Metropolitano this evening for a tasty Champions League clash, we ponder whether the 34-year-old could once again be the man to steal the show.
Quick into his stride
While his stint on Merseyside lasted just three-and-a-half seasons, it is fair to say Suarez's years with the Reds were the most pivotal of his career.
Arriving from Ajax for £22.8million, the then 24-year-old had lit up the Dutch Eredivisie but was facing his first true test in one of Europe's elite leagues.
After netting four times in 13 top-flight appearances following his arrival in January 2011, Suarez continued to progress impressively in 2011-12 despite the wider struggles of his team.
Though the Reds finished a lowly eighth in the Premier League, an effort that would eventually cost club legend Kenny Dalglish his role as manager, Suarez bagged 11 goals in 31 league outings and 17 in all competitions — enough to make him the club's top scorer that season.
What then followed were two years of brilliance under Brendan Rodgers, with league hauls of 23 and 31 goals — the latter seeing him grab the Golden Boot and be voted PFA Players' Player of the Year.
Arriving as a man with great potential, Suarez left Anfield cemented as a global superstar.
Rough split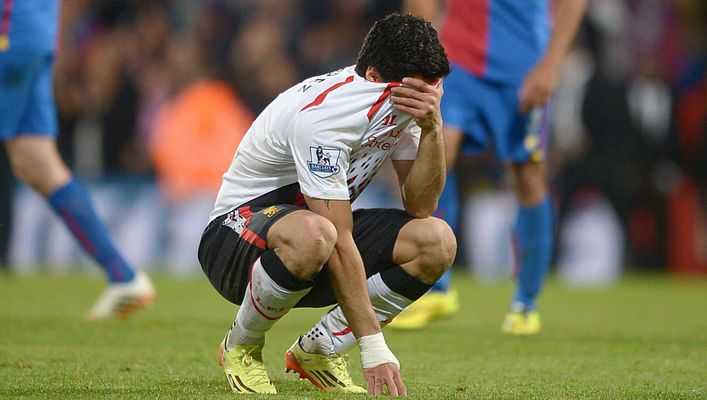 Though time is a great healer, Liverpool fans may still feel a twinge of pain when thinking back to Suarez's eventual exit.
But in reality, he could have quite easily left a full season earlier than he eventually did — a move to Arsenal collapsing after Steven Gerrard supposedly convinced the Uruguayan to stay put.
Suarez told Otro in 2019: "We qualified for the Europa League but the season ended badly.
"I'm about to go to Arsenal, forcing myself to go, and Steven tells me, 'I promise that if you stay this year you're going to take off and next year you'll go to Bayern, Barcelona, Real Madrid or whichever one you want, but stay this year because you won't be better off at Arsenal'.
"This was the last conversation I had with Gerrard at that moment and I told my agent I had made my decision and I was staying."
That extra season so nearly brought the club a first Premier League title — Suarez and Gerrard both inspired as the Reds fell agonisingly short of Manchester City in one of the all-time great Premier League run-ins.
LaLiga legend
Sure enough, Suarez did depart for one of the sides Gerrard listed, going on to net 195 goals in 283 games during a glorious six years at Barcelona.
His time ended rather unceremoniously at the Camp Nou in the summer of 2020 when Ronald Koeman showed him the door — much to the dismay of team-mate and close friend Lionel Messi.
Though he joined rivals Atletico Madrid, Suarez's impact in Catalonia is recognised by Barca's fanbase, who voted him into a list of the club's 20 greatest players of all time as recently as last year.
What is more, Suarez has done everything in his power to make Koeman's decision to release him look as foolish as possible.
The prolific forward fired in 21 LaLiga goals last term to help Atletico to an unlikely LaLiga title and, more recently, celebrated a goal against Barca with a phone gesture many perceived to be aimed at the under-fire Dutchman.
Suarez answered ambiguously when questioned on its meaning. He said: "It was for the people who know I have the same number, so they know I'm still on my same phone."
Still got it?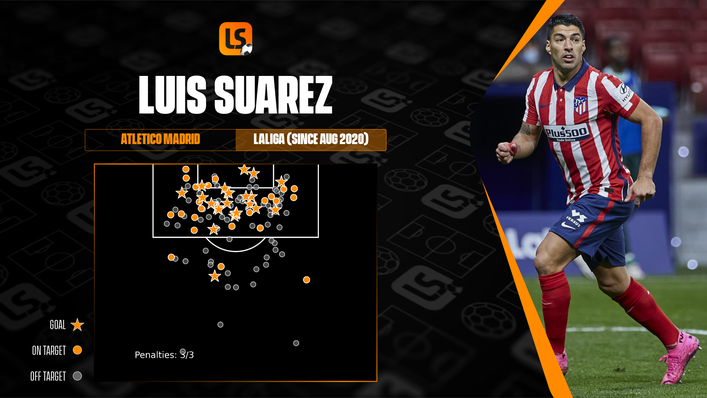 Despite his advancing years, the striker remains one of the most dangerous in the game.
With 25 goals in 40 LaLiga games since joining Atleti, made up of various styles of finishes, his eye for goal is arguably as sharp as ever.
His four goals from open play this term domestically are only bettered by another evergreen marksman in Karim Benzema, while he also unsurprisingly ranks highly for the amount of his shots hitting the target.
But the key differences in his game in recent years have stemmed from the volume of his actions.
Suarez can no longer be found among the division's top-ranking forwards for dispossessions, take-ons or even aerial duels — he is considered in every movement he makes and focuses his output purely on maximising his strengths.
Like Cristiano Ronaldo, Suarez has become a master of minimising waste and remaining a constant threat without charging around the field for 90 minutes every game.
Another reunion
Of course, Liverpool fans will be all too aware of the threat Suarez poses — but whether he receives a good reception from them tonight remains to be seen.
During their last meeting — a classic 2019 Champions League semi-final with Barcelona — the Uruguayan incurred the wrath of Reds fans when celebrating a first-leg goal against his former side.
In the reverse fixture at Anfield, where Liverpool famously overturned a 3-0 deficit, Suarez's touches were greeted with boos.
Speaking about the hostile reaction, he said: "I know some Liverpool supporters were angry with me because I celebrated a goal against Liverpool here in Camp Nou and for that I am so sad.
"I accept that and I say that hopefully they understand my situation. We were playing at home and in the Champions League semi-finals.
"I had so much confidence at Liverpool and the supporters helped me. I tried my best on the pitch and I miss a lot the support of their fans on the pitch."
Like bumping into an ex-partner years later, history is unlikely to be forgotten this evening — but in the heat of battle, there will also be no love lost.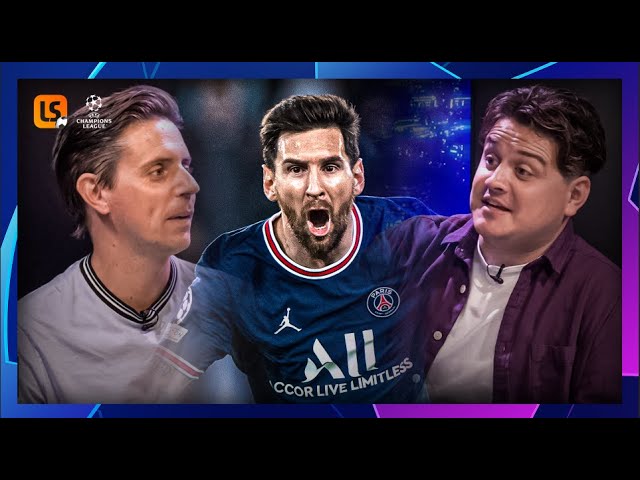 Tags