Inzaghi remains hopeful of Inter title push despite falling 11 points behind leaders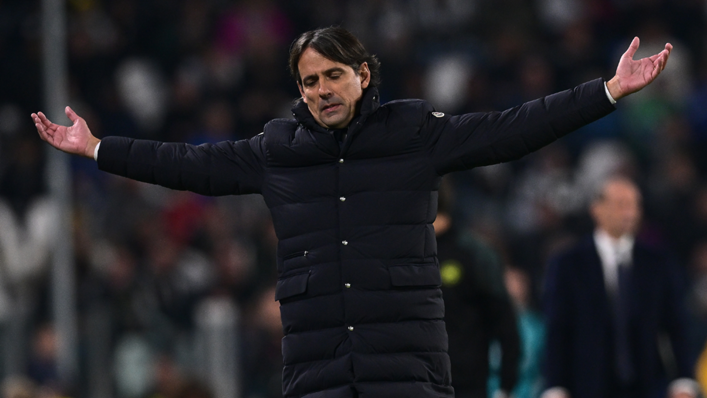 Inter head coach Simone Inzaghi remains hopeful of a title charge despite Sunday's 2-0 loss to Juventus leaving them 11 points off the pace in Serie A.
The Nerazzurri were downed in the Derby d'Italia by second-half goals from Adrien Rabiot and Nicolo Fagioli, snapping their four-game winning run.
The Bianconeri climb above Inter into fifth, while Inzaghi's side slid down to seventh on 24 points from 13 games, well behind leaders Napoli.
"There are 25 games to go from now to the end," Inzaghi told reporters about their title prospects.
"This is a defeat that slows us down a lot with the progress of this championship but we must be good at putting this defeat behind us immediately.
"We have to improve in these matches, the performance has been there but we have to be better."
Inzaghi added to DAZN: "At this moment, Inter must focus on becoming more consistent. We were coming off four consecutive victories, we are back on the field in a couple of days and a defeat like this can leave some psychological scars, as it was an important match.
"We had been able to score in 24 consecutive Serie A matches, this time unfortunately we were unable to."
Scoring goals has not been an issue for Inter, but conceding them has, shipping 19 from 13 games this campaign, which is the equal sixth worst in Serie A.
The Nerazzurri have conceded 16 of those 19 goals away from home which is the leakiest record in Serie A, having managed only nine points from seven away league games this term.
"We played the most complicated games away," Inzaghi said, having travelled to Lecce, Lazio, Milan, Udinese, Sassuolo, Fiorentina and Juventus this Serie A season.
"Clearly we need to improve in the big matches and in the goals scored. Juve shot three times on goal and scored two goals and one hit the post. We shot eight, nine times, with clearer chances and we didn't score.
"This is a defeat that slows us down, that hurts and for what we have seen on the pitch it is not deserved. It's regret having ended the first half at 0-0."
Tags