Jack Grealish provided England boss Gareth Southgate with a timely reminder of his qualities in Wednesday's clash with Austria.
The Aston Villa playmaker, 25, put in an eye-catching display at the Riverside Stadium, which has only increased the clamour for him to start against Croatia in England's Group D opener.
As the Three Lions get set for their final warm-up game against Romania this evening, we take a look at why Grealish should be a shoo-in for a starting berth at Euro 2020, even though Southgate has not always been his biggest fan.
Finding fitness
Due to missing much of the Premier League season's latter stages with a shin injury, Grealish went into Wednesday's game in Middlesbrough lacking match fitness.
He started Aston Villa's final two games but is still getting warmed up ahead of the Euros.
That is undoubtedly cause for optimism. If the midfield maestro was not even fully up to speed in a man-of-the-match performance in the 1-0 win against against Austria, it bodes well for the impact he could make during the tournament.
Drawing fouls
It is surprising Grealish has not spent more time on the sidelines given the rough treatment he is often on the receiving end of in games.
No Premier League player was fouled more in 2020-21 (4.53 per 90 minutes) and he also won the most free-kicks inside the final third of the pitch (1.69 per 90).
The Villa skipper's pace and trickery is a nightmare to defend against and his ability to draw a foul could be vital this summer — especially with a number of proficient set-piece takers in England's ranks.
Grealish is well aware of the value to this side of his game.
Speaking after the Austria game he said: "Of course I take the kicks as a compliment — not so much for Villa because we haven't got that many good free-kick takers!
"But we're blessed with them for England. The standard here when we do free-kicks after training is just unbelievable."
Dynamic dribbler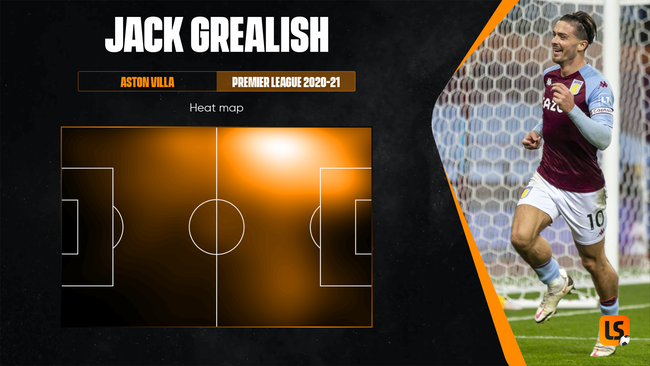 England's squad is packed full of players who are not afraid to take on their man.
Jadon Sancho, Phil Foden, Bukayo Saka and Raheem Sterling are all dangerous with the ball at their feet, yet none of them can match Grealish's exceptional dribbling skills.
He is constantly looking to run at opponents, attempting 4.16 take-ons per 90 in 2020-21 — that is inside the Premier League's top 20 players.
But his success rate is even more impressive, with only seven of his peers completing more than his 2.68 successful take-ons per 90.
England are likely to face one of Portugal, France or Germany in the round of 16 if they top Group D, so Grealish's charging runs could be a vital weapon when counter-attacking against Europe's big guns.
Creating space
One of Grealish's biggest strengths is the way his movement sucks defenders in, creating space for the players around him.
England have plenty of talented forwards who can cause problems in the final third but Scotland and the Czech Republic are likely to sit deep and stay compact when they face the Three Lions.
Having the Aston Villa creator roaming across the pitch will provide those backlines with an additional headache — hopefully allowing one of his team-mates to take advantage.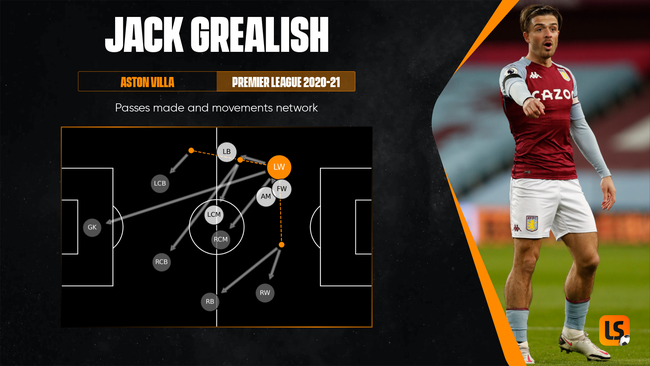 Fierce competition
There is little doubt Grealish is worthy of a spot in Southgate's starting line-up, even if the competition for places is remarkably fierce.
If England set up in a 3-4-3 as expected against Croatia, Grealish will be competing with Sancho, Foden, Sterling and Marcus Rashford for two places alongside Harry Kane — and that is before you even factor in Saka's breakout display on Wednesday.
Something has to give but the weight of evidence points to Grealish being among the three best attacking options in Southgate's squad.
Tonight's match provides the Three Lions boss with one final opportunity to find the right combination ahead of the Euros.