Mullin reveals Shear joy of catching legendary striker's eye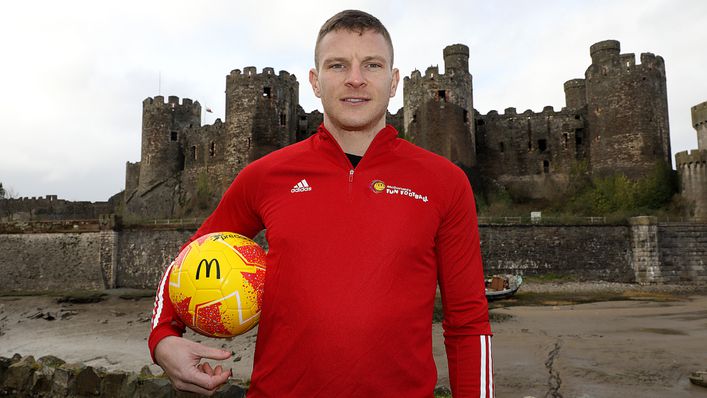 Wrexham striker Paul Mullin is overjoyed at the platform playing for the club's Hollywood owners has given him.
Actors Ryan Reynolds and Rob McElhenney took over the National League outfit in 2021 and are closing in on a return to the Football League at the second time of asking.
Mullin's 31 goals have played a huge role in firing the Red Dragons to the top of the table.
And the hotshot, 28, has opened up about catching the eye of legendary hitman turned pundit Alan Shearer, who wrote a column about him in The Athletic.
Mullin said: "Obviously it's not something you expect growing up in Liverpool.
"The Premier League's leading goalscorer speaking about you, it was nice to see and lovely to read. He was an unbelievable footballer and now pundit, so it was lovely to see."
Mullin revealed in January that his son Albi had been diagnosed with autism and he is grateful that playing for Wrexham has given him the chance to spend time with his family.
He added: "Wrexham has been unbelievable for me and more importantly in the fact that I get to see my kid every night.
"I've documented he's got his problems and I'm forever grateful for Wrexham for signing me at the time that they did.
"I enjoy it and love it every day and it's class. Wrexham have got a fervent fan base. Matches are always a sell-out.
"It's getting to a stage of the season where they're getting a little bit nervous but we need them to stick with us and sing as loud as they can in the nervous moments.
"For us it's great to walk out every weekend to a sold-out place to play football. Growing up as a child that's what you look forward to doing and thankfully we get to do that every week."
Mullin, speaking at a McDonald's Fun Football event, was grateful his parents gave him everything he needed to begin his journey as a footballer.
And he hailed the volunteers up and down the country who give their time to help kids pursue their dreams.
He explained: "Anyone who volunteers to help youth teams should really be held up as a pillar of the community. They give their time to give back to kids who need help.
"People who volunteer their time to take kids away from being naughty on the streets or getting mixed up in the wrong things, who provide them with an opportunity to get active and get out the houses, are unbelievable."
Tags