Hollywood touch leaves Mullin full of gratitude
Phil Blanche
Press Association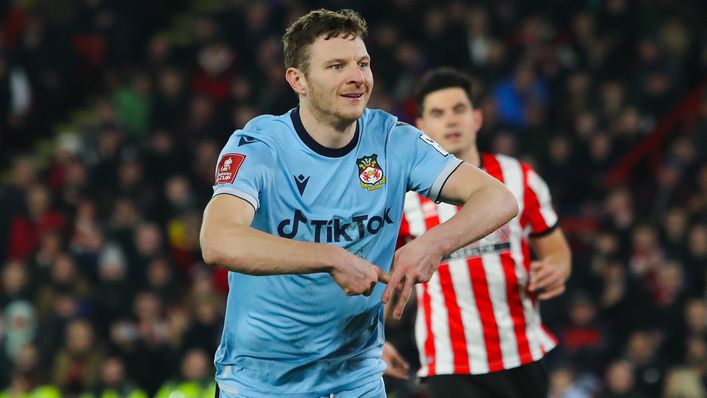 Paul Mullin has revealed the personal touch of Hollywood actors Ryan Reynolds and Rob McElhenney is driving Wrexham towards promotion glory.
The National League leaders have a three-point advantage over Notts County in the race for the one automatic-promotion place and boast a game in hand.
Celebrity pair Reynolds and McElhenney have transformed the Red Dragons since taking charge two years ago, with the hugely successful Welcome to Wrexham documentary series introducing the club and wider community to international audiences.
But striker Mullin says everyday life at the Racecourse is a world away from the glitz and the glamour, pointing to how Reynolds reached out when his three-year-old son Albi was diagnosed with autism in January.
He said: "My little lad was sick and Ryan came over to help, to try and make him better.
"That's the type of people they are, really cool people. They care about the players, the families, the staff, and the club more importantly.
"It's nice of them as owners to keep in touch with the lads and check on how they are getting on. It means you're going to produce for them on the pitch if you're happy off it."
Fighting chance
Having celebrity owners does, however, come with its benefits.
Mullin — a lifelong UFC fan — and team-mates Ollie Palmer, Jordan Davies and Rory Watson were treated to a memorable night out after Saturday's 2-1 win at Bromley.
Co-owner McElhenney, who persuaded Mullin to drop two leagues and join Wrexham in a 2021 telephone call, sorted out some of the best seats at UFC 286 at the O2 Arena — and the players were even introduced to the American TV audience.
Mullin, appearing at a McDonald's Fun Football session in Conwy Castle, added: "It's something I'd wanted to do for years and we were sat close to the action.
"It was good of Rob to do that and again shows what the owners are about. They've been unbelievable ever since coming in to get the community together and right behind the club.
"They provide back to the community and it shows because there are a lot of happy faces about the place.
"It just makes you happy going to work and being around the people of the town."
Mullin also has ambitions of stepping on to the international stage with Wales, qualifying through his Welsh-born grandmother.
He said: "I'm from Liverpool but I don't class myself as English — far from it.
"I'd love to represent Wales. Being a part of Wrexham the last two years, I love the people of Wales.
"They've taken me as one of their own and if I was lucky enough to get the opportunity I'd be ecstatic."
Paul Mullin joined children for a McDonald's Fun Football session in Conwy Castle. McDonald's provides free fun football coaching for kids aged 5-11 across the UK. Find a Fun Football session near you at www.mcdonalds.co.uk/football.
Tags