Scott: Wilder will not quit boxing after second Fury loss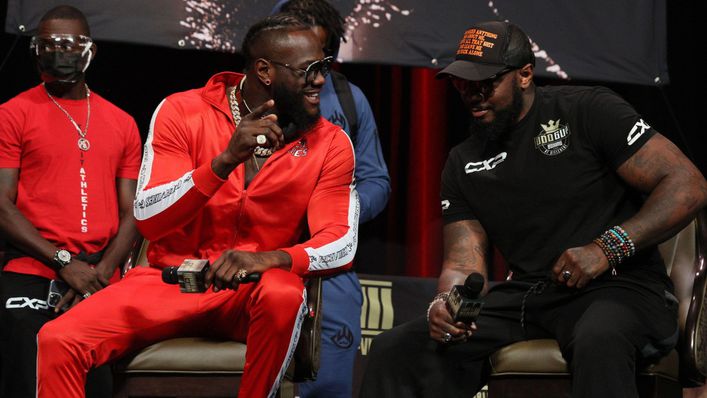 Deontay Wilder will not quit boxing despite losing against Tyson Fury for a second time, says the heavyweight's lead trainer Malik Scott.
Wilder was knocked out in the 11th round by Fury in a slugfest between the pair for the WBC world championship on Saturday in Las Vegas.
The 35-year-old American challenger did manage to drop the unbeaten British star twice in the fourth, but the fight was stopped in the penultimate round after Fury landed a series of brutal strikes to end Wilder's resistance.
It was the third meeting between the heavyweight rivals, following a contentious split-decision draw in the first clash in December 2018 and then Fury's dominant victory to end Wilder's unbeaten record in February 2020.
But despite losing the trilogy fight, trainer Scott assured Wilder would not hang up his boxing gloves yet.
Scott told iFL TV: "Deontay [Wilder] has set his family financially secure, so he doesn't have to fight to make a living.
"But retiring is not in his plans at all and not something we've discussed.
"He will be back in any form he wants to be. He's a big-time fighter, and he doesn't belong down there with the other guys, he needs to be in high-level fights and main events.
"Deontay Wilder was great on Saturday, but Tyson Fury was even greater – it was a great night of boxing for the heavyweight division.
"You have to give Fury credit for having a good chin and getting up. Fury is a legend and one of the best in the heavyweight division in any era, and it's the same about Deontay."
Scott was appointed by Wilder following the second bout with the 'Gypsy King' after his then-trainer Mark Breland threw the towel into the ring for a seventh-round stoppage.
But while the two boxers exchanged several knockdowns at the T-Mobile Arena in the final contest, Scott insisted there was never a moment he considered waving the white flag for Wilder.
"Over the years of me knowing Deontay, he has always said throwing the towel in with a knockout artist like him wouldn't be tolerated," he said.
"It's something I respected. The last knockdown was the worst knockdown and the ref called it off.
"Deontay and Mark [Breland] never had a relationship outside the gym, they never talked for more than five minutes on a phone call.
"Me and Deontay would never fall out and not speak again – our bond is too tight."