Fury considering octagon clash after facing Ngannou in Riyadh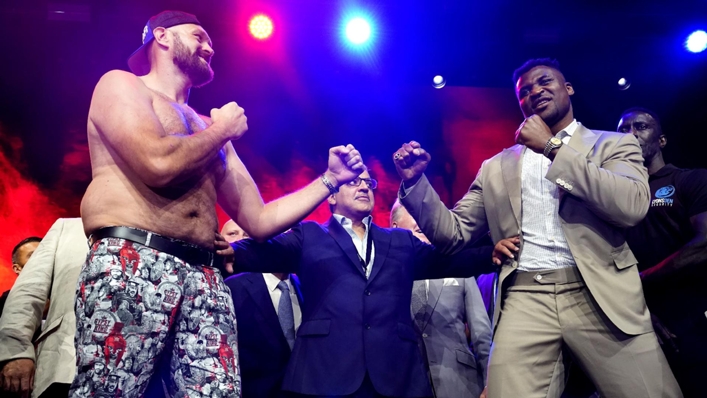 Tyson Fury hit back at the critics who have questioned his bout with MMA star Francis Ngannou before hinting at a second showdown in the octagon.
The Gypsy King, 35, has faced plenty of scrutiny since it was announced in July that he would face former UFC world heavyweight champion Ngannou on October 28 in Saudi Arabia.
While it will be a 10-round boxing contest in Riyadh, Fury's WBC heavyweight title will not be on the line.
And the fight occurs amid the backdrop of a potential unification clash with WBA Super, IBF and WBO title-holder Oleksandr Usyk falling through.
Fury was at his charismatic best in London tonight to publicise the fight dubbed the Battle of the Baddest but aimed at a dig at the media and his detractors who question why he has not been finalised a undisputed clash with Usyk.
He said: "I have to take my hat off to Francis for his story, where he has come from, the fight, the grind and the determination to get to where he is.
"He was a young boy in Africa with a big dream and everybody at home probably laughed at him.
"But I won't laugh at anyone because I know man's struggle. I come from a place where everything is possible.
"I may not be here today if things had gone differently so I never underestimate anybody. The media say he has no chance.
"I say if I go to the boozer and get in a brawl with a drunken guy, if he hits me, he may knock me out, so how am I not going to prepare 100% for an absolute killing machine who is trying to take my brains out? I will give Francis the respect he 100%t deserves.
"I need to bring my A-game because there is more on the line than a boxing fight. If I lose to an MMA guy, I will never be able to show my face in public again and I will be ridiculed. People will chuck it at me forever.
"So if the media want to take it as a joke or whatever, make no mistake I will come into this leaving zero stones unturned.
"I will come in at my fittest, strongest and at the best I have ever been. If I am not, if I get knocked out, I want people to laugh at me."
Fury's promoters, Frank Warren of Queensberry and Top Rank's Bob Arum, predicted entertainment will be guaranteed next month.
But boxing fans will wonder what is next for Britain's world heavyweight champion.
Talk continues to rumble on over if Fury could fight compatriot Anthony Joshua in 2024 or if a clash with Usyk may happen after the Mancunian beat Dillian Whyte and Derek Chisora in one-sided fights last year.
Yet he dropped a big hint there could be a second tale between himself and Ngannou, who is preparing for his boxing debut.
Fury added: "I think I could beat you in the cage. I would kick your a*** in the cage, no problem, 100%. Personally, I will beat you in the boxing ring and then kick your a*** in the cage."
This fight will kick off Riyadh season in Saudi Arabia and Fury provided a chilling prophecy of what the future could hold in store for the Middle East country, which is repeatedly criticised by anti-human rights groups and accused of sportswashing.
He said: "It is a very special event for me and a special time in sports where a powerhouse like Saudi Arabia are coming in taking over the game.
"They are taking over football, taking over boxing. I think within five to 10 years they will be the powerhouse of all sports. All the big sporting events will be in Saudi Arabia somewhere."
Ngannou will realise a dream by fighting as a professional boxer for the first time and has help from Mike Tyson, who will be in his corner.
Boasting a record of 12 knockouts in his 17 UFC contests, the 37-year-old Cameroonian promised if his punch lands, it will knock out Fury.
He said: "I ask myself what will happen at the moment that guy hits the floor and doesn't get up? Does that make me best boxer in the world?
"If you take out the No1, it makes you No1.
"If it does land, goodnight. Lights off. What do you think will happen? This is a heavyweight fight and that is what is very exciting about heavyweight fights.
"We know everybody in the heavyweight division can knock each other out. I am going in there to fight. To hit and not get hit. That is the rules of boxing and I am very aware of that."