Usyk and Fury 'need this fight' as Ukrainian eyes unification bout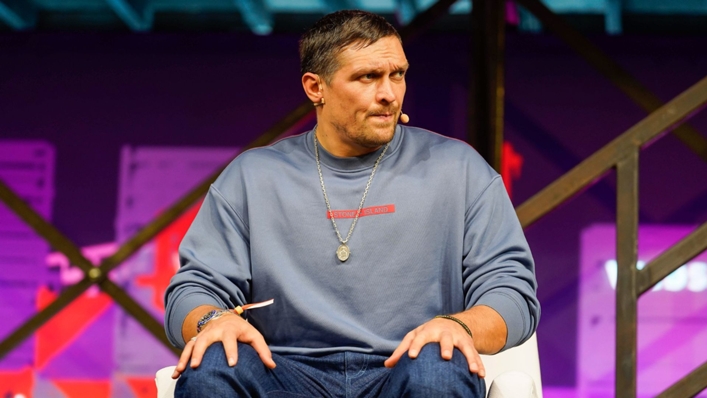 Oleksandr Usyk believes both he and Tyson Fury "need this fight" as the duo inch closer to a blockbuster heavyweight unification bout.
The Ukrainian retained his WBA Super, IBF and WBO belts against Anthony Joshua last August in Jeddah, while Fury completed his trilogy with Derek Chisora in December.
A likely deal to bring the pair together – and therefore all four titles, including Fury's WBC crown – looks to be growing closer to fruition.
Speaking about a potential bout, Usyk acknowledged any encounter would come freighted with history, though he stressed it would be no different from any other fight he has had.
"I just need this fight and that's it," he told The Overlap. "I think he needs it too. This fight is very important for both of us because all four belts haven't been held by one person for 30 years in the heavyweight division.
"So, both of us need this fight. This will be like any other fight. It's just a big man who has never lost before against a man who has the WBC belt.
"Of course, it's possible to get carried away but actually, this is a normal fight for the right to win all belts."
With a half-foot height advantage over Usyk and a longer reach to boot, Fury in theory has the upper hand in any match on a purely statistical level.
The Ukrainian has continued to confound critics since making the move up from cruiserweight though, and does not see any physical disadvantage against his rival.
"If a person is bigger than me, it doesn't mean that they're stronger," he added. "If they have longer arms, it doesn't mean that it will be an advantage.
"I've been boxing since I was 15 years old. During this time, I've heard many opinions from people that I know well or from people who I've met just once. They kept telling me that I shouldn't be boxing.
"They told me that I wouldn't become an Olympic champion or a world champion and that I shouldn't have switched to the heavyweight division.
"But these were opinions from people who couldn't do it themselves. Personally, I keep praying and moving forward.
"I don't worry about whether I will reach my destination. It's like a samurai. He doesn't have an aim, but he has his path. I have my path too."
Tags