Transfer Talk: Gyokeres moving up with or without Coventry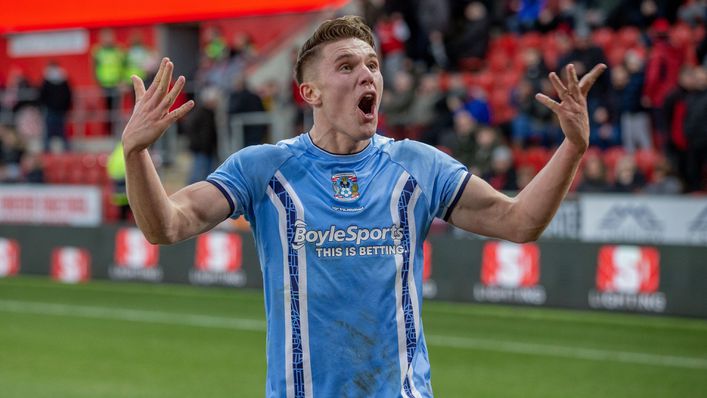 It looks certain that Viktor Gyokeres will soon be playing in the Premier League, regardless of whether he can help Coventry to win promotion today.
With 21 league goals, the Swede has been one of the major inspirations behind the Sky Blues' journey to the Championship play-off final.
And his performances have attracted the interest of Premier League clubs, making his presence in the top flight next season a virtual inevitability.
Ahead of Coventry's clash with Luton at Wembley, we turn the spotlight on Gyokeres and take a look at his future options.
Bargain signing
Gyokeres might just be the rarest thing in football. A bright young talent that slipped through the net at Brighton.
The Seagulls signed him from the Swedish club Brommapojkarna in 2018. Loans at St Pauli and Swansea followed, before a temporary spell at Coventry began in 2021.
Despite the striker only scoring three times in his first 19 appearances, the club paid Brighton £1million to make the deal permanent. It was a shrewd bit of business.
In his first full season, Gyokeres scored 18 goals and assisted five more across all competitions. He has followed that up with 22 strikes and 11 assists during this campaign.
Along with the Dutch midfielder Gustavo Hamer, the 24-year-old has been the driving force behind Coventry's promotion campaign.
Yet with Gyokeres' contract set to expire next summer, it would seem that the Sky Blues' only chance of keeping hold of the player is to beat Luton this afternoon.
Robins' verdict
Earlier this season, the Coventry manager Mark Robins reflected on Gyokeres' time at Coventry.
He said: "He's brilliant. He's a brilliant kid as well. He came in on the back of a spell at Swansea from Brighton and I knew that the raw ingredients were there but he'd not done it and he hadn't played.
"He came in and wasn't starting in the side and he was fuming, absolutely furious that he wasn't playing. He wasn't ready to do that.
"I said to him, 'I'm waiting to see it'. From that moment on, he's shown me and fair play to him. He's phenomenal.
"There's still loads of learning there as well, he's 24. For a striker he is very young but he is doing everything you would want him to do.
"He's 100% got a chance, no doubt about it. But hopefully we can keep hold of him for a little bit because we want to progress ourselves as a football club."
Premier League interest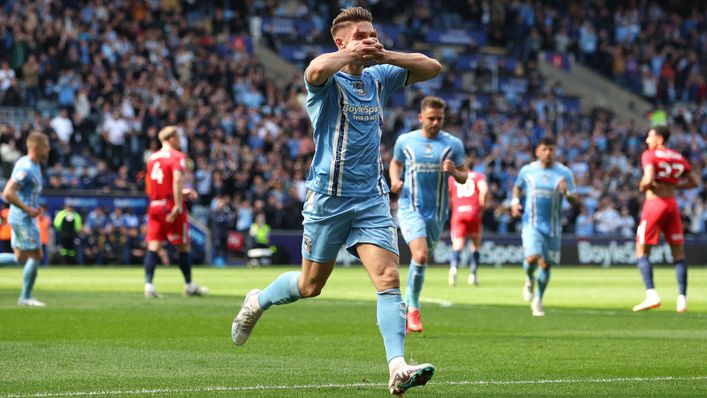 Gyokeres' productive season has caught the attention of a number of Premier League clubs.
If Coventry are to convince him to sign a new contract, they will need to be a top-flight side themselves.
Even if they do, it will be a tough sell. The likes of Brentford, Burnley, Everton, Fulham, Leeds, West Ham and Wolves have all been linked with the Swedish international.
Back in April, Gyokeres switched agents to become represented by Hasan Cetinkaya, which suggests that he is at least considering his future.
With his pace, work-rate, strength, skill and confidence, it is clear why this player is so desired, after a season in which his end product has been much improved.
But should he help his team to win promotion, then there would be no Premier League club more in need of him next season than the Sky Blues.
Whatever happens, Gyokeres will remain a Coventry City hero. He might not be on board for the full journey, but he has driven them to a point that the club's fans had not imagined possible.
Tags