Klopp demands more 'support' for Nunez from Liverpool after Salzburg defeat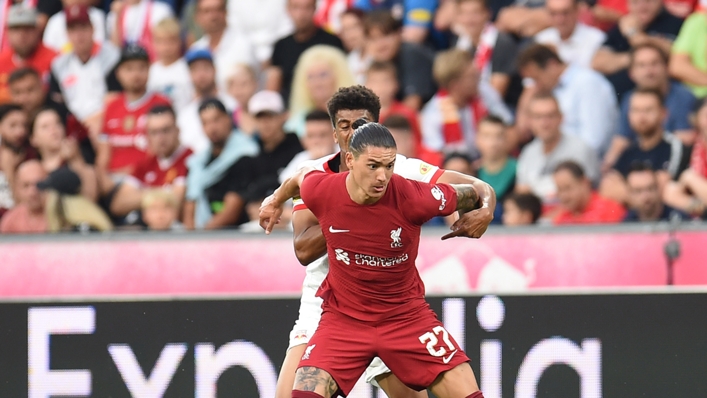 Liverpool boss Jurgen Klopp called on his players to provide more support to new arrival Darwin Nunez following a 1-0 defeat to Salzburg.
The 23-year-old played the first half of Liverpool's friendly against the Austrian side, with a largely second-string line-up for the opening 45 minutes seeing Nunez joined in attack by fellow new arrival Fabio Carvalho and Harvey Elliott.
By the hour mark, Liverpool had switched to a full-strength side, suggesting that Nunez may begin the season outside the starting line-up, but were unable to claw their way back into the match.
Nunez's game was a far cry from his four-goal show against RB Leipzig the last time he took to the field, and Klopp made it clear his new addition requires sustained support from team-mates.
"First half, we made too many mistakes which they could use. We had good moments as well, we could have scored in the whole game four, five goals at least. We didn't do that," Klopp told Liverpool's club media after the match.
"Darwin was much too often alone. Everybody dropped, everybody was involved in the build-up but too wide, and we could only pass the ball to Darwin in the box.
"He had his moments and nearly scored, but he needs much more support around him. You keep other players busy that they cannot focus on him. So many things. In the second half, imagine now Darwin would have been there in the box, that could have helped as well. It is like it is – it doesn't feel great, but we take it and go from here."
Liverpool will now look ahead to the Community Shield clash against Manchester City on Saturday, with a final friendly against Strasbourg a day later, before their Premier League season commences on August 6 against Fulham.
Tags