Kerr not concerned by Warriors 'rut'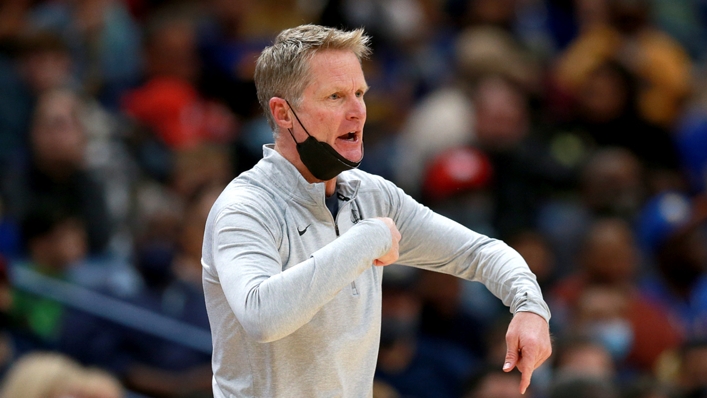 Steve Kerr insisted the Golden State Warriors' defeat to the Milwaukee Bucks is not a cause for concern as it is normal for sides to go through difficult spells.
The Warriors were beaten 118-99 by a Giannis Antetokounmpo-inspired Bucks on Thursday to make it four defeats in their past five games.
Despite losing to the Dallas Mavericks, the New Orleans Pelicans, the Memphis Grizzlies and the Bucks, Kerr's side are second in the Western Conference with a 30-11 record.
Without the injured Draymond Green once again, the Warriors showed some fight in the second half to reduce a 39-point deficit to 18, but that was as close as they got to the Bucks.
"I know we just got our butts kicked, but we're just in a rough patch in our season," Kerr said at his media conference.
"It happens to every team, every year pretty much with very few exceptions.
"We're in a little bit of a rut and we were playing a team that was ready and played a great first half. We're a little out of sorts. We've just got to get back on track, and we will."
Thursday's contest at Fiserv Forum was billed as a showdown between Antetokounmpo and Steph Curry, who sat fourth and second for points scored heading into the game.
There was only one winner in that battle, though, as Antetokounmpo dropped his third triple-double of the season in the Bucks' commanding victory.
The two-time NBA MVP had 30 points, 12 rebounds and 11 assists in front of coach Mike Budenholzer, who was back after returning from the league's health and safety protocol.
Antetokounmpo's 28th career triple-double came in under 30 minutes played, making him the first player in NBA history to achieve that feat multiple times.
And for the 27-year-old, it is a case of brushing off each challenge as it comes as the 27-17 Bucks aim to improve on their fourth-placed standing in the Eastern Conference.
"We know we're the defending champs and everybody's going to come hard at us," he said. "But at the end of the day, it's about us."
Curry was limited to 12 points, which is the joint-second fewest he has managed in a game this term and down on his season average of 26.
"We obviously have stuff to work on, but it's not like a situation where we don't know what to do or how to get it done," Curry said when asked about his side's form.
"Milwaukee is a good team obviously; they have championship DNA now. We just got off to a terrible start where everything went wrong on both ends of the floor.
"They played a little bit hungrier than we did, and pretty much won it in the first 18 minutes."
The Warriors are back in action on Friday against the New York Bulls, while the Bucks face the Toronto Raptors on Saturday.