In Focus: Shaky Van Dijk can be rock for Reds once again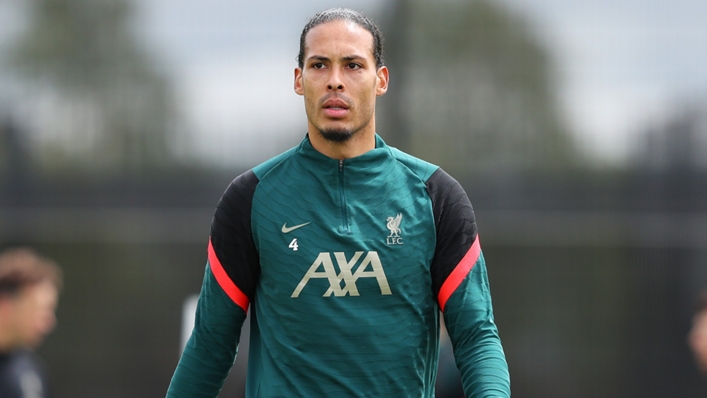 Liverpool have not been their usual dominant selves so far this season — and neither has Virgil van Dijk.
The Dutch defender, 31, has been a colossus since his Anfield arrival in January 2018 but uncharacteristic errors in recent weeks have seen questions raised over his performance levels.
With Van Dijk set to captain the Netherlands for tonight's tricky Nations League trip to Poland, we put his surprising struggles under the microscope.
Rare blip
Few defenders in English top-flight history have made as significant an impact when joining a new club as Van Dijk did with the Reds.
He has lifted the Champions League, Premier League, FA Cup, Carabao Cup, Club World Cup and Super Cup under Jurgen Klopp's tutelage — and played a key role in every one of those triumphs.
Whatever happens in the coming years, the commanding centre-back is assured of a place in Liverpool's illustrious hall of fame.
That impressive pedigree does not excuse for what has been a below-par campaign to date, though.
In their opening draw at Fulham, the No4 felled home forward Aleksandar Mitrovic to give away a clumsy penalty which would ultimately cost his side two points.
He was then part of a backline run ragged by Manchester United, before another humbling night in Italy when Napoli smashed four past the Reds — Van Dijk giving away another spot-kick in that mauling.
Numbers game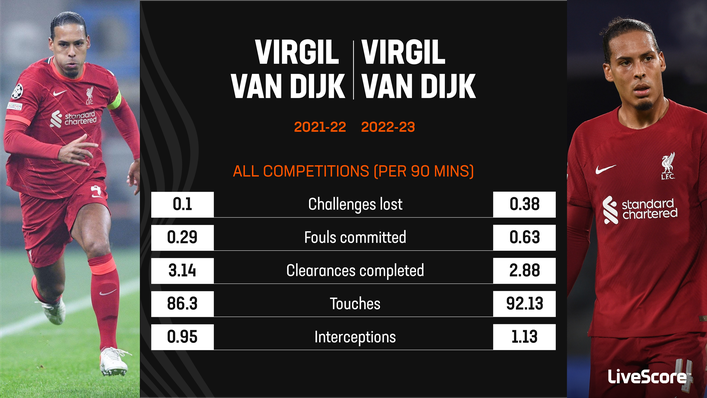 A look at the underlying statistics show that the former Southampton man is indeed finding things tougher this term.
Heading into the international break, Van Dijk has lost more challenges, committed more fouls and completed less clearances per game across all competitions when compared with 2021-22.
However, his numbers also hint that Liverpool's defensive problems are much more deep-rooted than individual underperformance.
For example, Van Dijk has taken an average of 92 touches an outing thus far compared with 86 last season, suggesting he is being called into action more often.
That is further backed up by his average 0.5 tackles and 1.13 interceptions per 90 minutes — two statistics that have also risen.
Wider problem
Premier League stalwart Paul Robinson certainly thinks it is more a case of the Dutchman being let down by those around him.
The ex-England stopper told Sky Sports: "He [Van Dijk] is as fit as anybody. I don't think his drop-off in form is anything to do with fitness levels or fatigue from last season.
"I just think he is playing in a team that is struggling. He has been more exposed than he has been in previous seasons.
"I think Van DIjk is a victim of the team's performance rather than any individual struggles. I do not think there is a hangover from last year."
Yet former Reds midfielder Danny Murphy believes the after-effects of a horror ACL injury sustained in October 2020 are limiting Van Dijk's capabilities.
Murphy told talkSPORT: "The injury, which is a huge one and he's come back from, although he's not had problems in missing games, I think psychologically he's not in the same place.
"What I mean by that is not wanting to be as physically engaged with players and tackles.
"He's playing within himself a little bit and protecting himself a little bit without knowing it.
"I've played with players who have had ACL injuries before and when they come back you can see them doing it."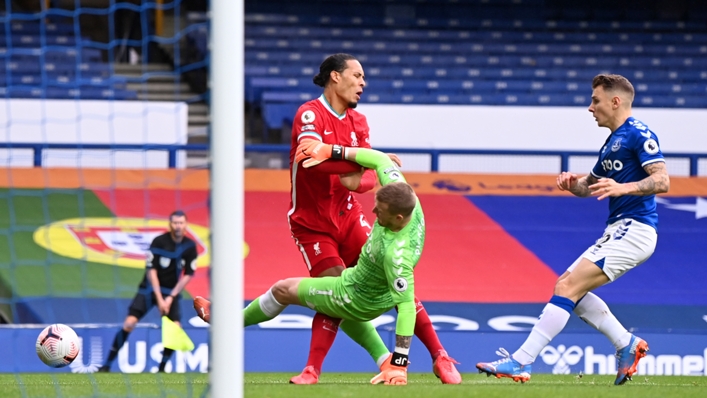 Taking responsibility
Typical to the character that Van Dijk is, he has not shirked away from criticism.
After the Reds' narrow 2-1 victory over Ajax last week, he said: "If we do well, I obviously get praise and if we don't then I don't. But I still think I need to improve and that's fine.
"The only way to do it is to play the games, learn from the mistakes, don't listen to the outside world too much and speak to the people close to you.
"I've said it many times, we are all human beings and we all want to do as well as we can and the same goes for me. I know for a fact I can do much better, but we all can do better.
"I feel very hurt if we concede goals and don't keep clean sheets and I feel that responsibility, but that's a good thing.
"I want to turn this season around not for myself, but for all of us associated with the club."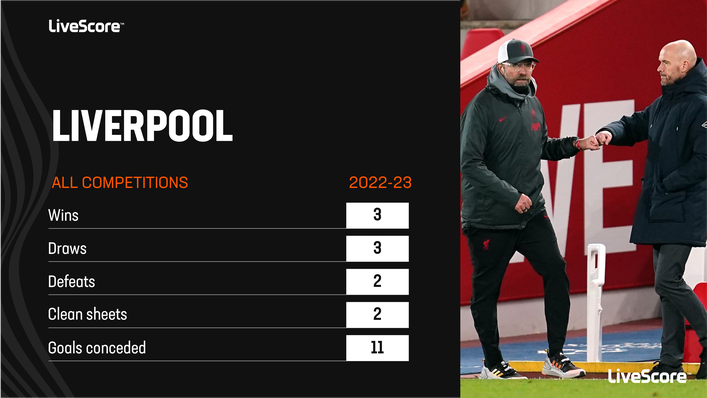 Class is permanent
Anyone writing off such an elite performer after a handful of wobbly games should do so at their peril.
Over a five-year period, Van Dijk has established himself as one of the Premier League's most reliable operators and it is only natural that any of his slip-ups make big headlines.
Liverpool's injury crisis in midfield has certainly not helped their backline in recent times, while players such as Trent Alexander-Arnold and Joe Gomez appear to be suffering from a lack of confidence.
Van Dijk has been under plenty of pressure as a result but a break away with Louis van Gaal's national side may be the perfect chance for him to reset and refocus.
Do not be surprised if the Dutchman is soon back to his formidable self.
Tags