In Focus: The highest-rated players on FIFA 23 revealed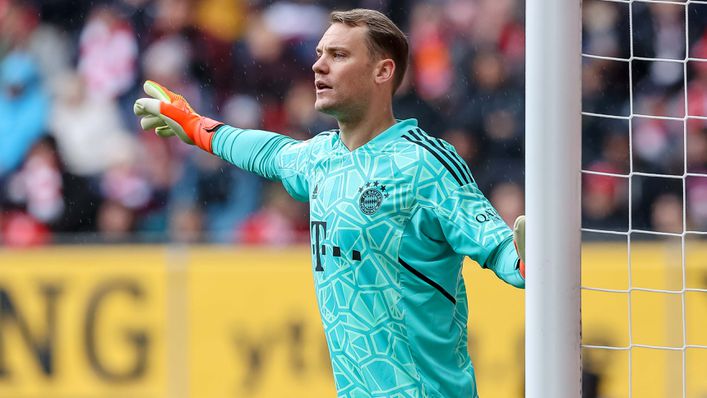 FIFA 23 is released next week and the top 10 players on the game have been revealed as excitement hits fever pitch.
There is a new man at the top of the rankings, while Liverpool, Real Madrid and Paris Saint-Germain all boast two talents among the world's elite.
Ahead of the general release on September 30, we take a look at the superstars that gamers will be desperate to see in action when they fire up their consoles.
10. Manuel Neuer — Goalkeeper, Bayern Munich (90)
Manuel Neuer's spot is as consistent as his performances between the sticks as he maintains a respectable 90 overall rating and 10th place in the rankings.
The towering German, 36, boasts excellent all-round attributes and will be a rock-solid foundation to build a team upon.
9. Thibaut Courtois — Goalkeeper, Real Madrid (90)
Real Madrid stopper Thibaut Courtois jumps 10 places after his Champions League heroics helped Los Blancos land a record-extending 14th title.
The big Belgian, 30, is not as good with his feet as Neuer but makes up for it with incredible shot-stopping ability.
8. Cristiano Ronaldo — Striker, Manchester United (90)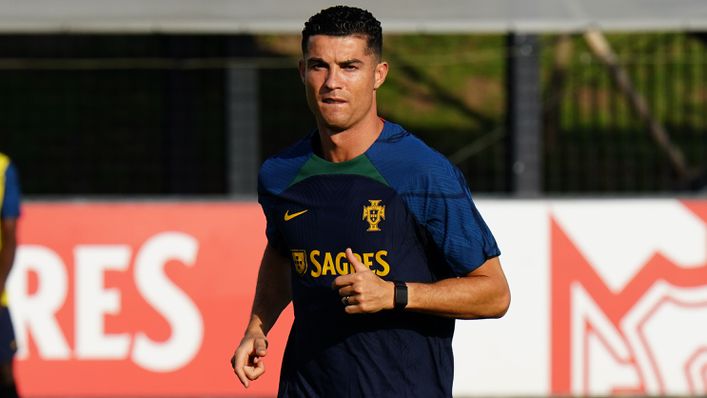 Cristiano Ronaldo remains an elite option on FIFA with 93 finishing and shot power, five-star skill moves and a strong weak foot.
EA Sports have reduced the 37-year-old Manchester United and Portugal star's pace but if you get the ball to him around the area, he will be impossible to stop.
7. Virgil van Dijk — Centre-back, Liverpool (90)
Virgil van Dijk shrugged off his injury woes from the previous campaign to return to his dominant best last season and was rewarded by edging into the 90 overall range.
The highest-rated defender on the game, the 31-year-old will be a must-own option for any Premier League XI on Ultimate Team.
6. Mohamed Salah — Right wing, Liverpool (90)
Van Dijk's Liverpool team-mate Mohamed Salah's reward for sharing last season's Premier League Golden Boot is a six-spot jump into the top 10.
With pace and dribbling stats of 90 and 89 shooting, gamers will enjoy watching the Egyptian, 30, cutting inside on to his formidable left foot.
5. Lionel Messi — Right wing, Paris Saint-Germain (91)
A changing of the guard sees Lionel Messi slide four places from his No1 spot last year thanks to a two-point drop in his overall rating.
The Argentine attacker, 35, has seen significant reductions to his pace and shooting ability but thankfully had plenty to spare.
4. Kevin De Bruyne — Central midfield, Manchester City (91)
Kevin De Bruyne, 31, keeps hold of fourth position thanks to another superb season with Premier League champions Manchester City.
The Belgian's outrageous 93 passing score makes him the best midfielder on the game and his shooting and dribbling stats are not bad either.
3. Kylian Mbappe — Striker, Paris Saint-Germain (91)
Kylian Mbappe leaps above team-mate Messi into the top three despite seeing his overall rating stay at 91.
The fearsome Frenchman, 23, will be the most in-demand player on the game thanks to his 97 acceleration and sprint speed.
2. Robert Lewandowski — Striker, Barcelona (91)
Robert Lewandowski's stunning start to life at Barcelona was not enough for him to beat last year's No2 ranking.
The prolific Pole, 34, has been downgraded to 75 pace but with 94 ratings for positioning and finishing, will find a way to score regardless.
1. Karim Benzema — Striker, Real Madrid (91)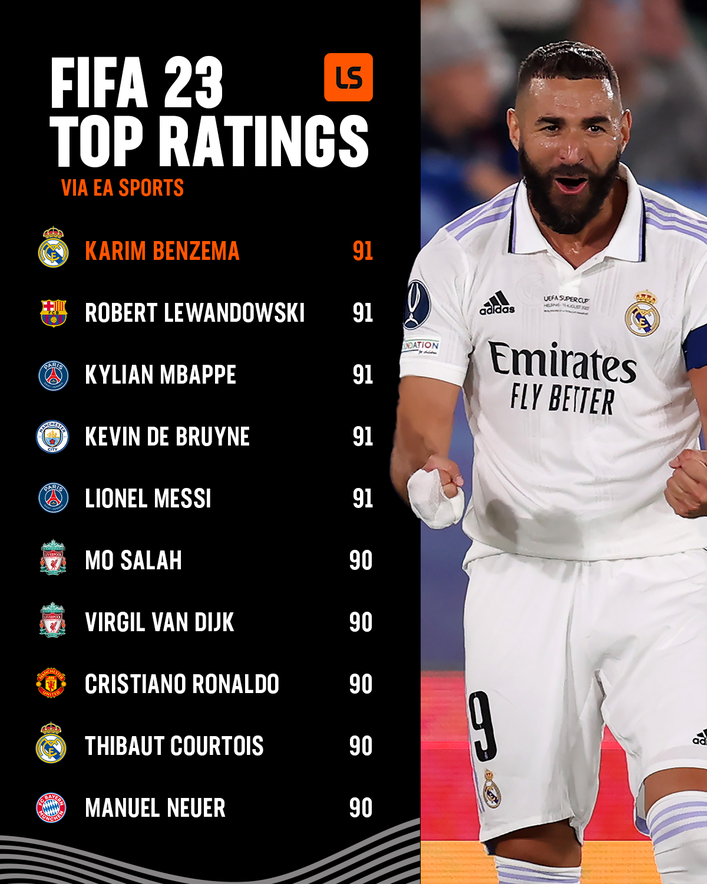 EA Sports have crowned Karim Benzema the best player in the world after he fired Real Madrid to the Champions League last season.
The 34-year-old is a shade faster than Lewandowski and boasts excellent technical stats which will make him a potent spearhead for many teams.
Tags