In Focus: Budding Bellingham can become Three Lions' mane man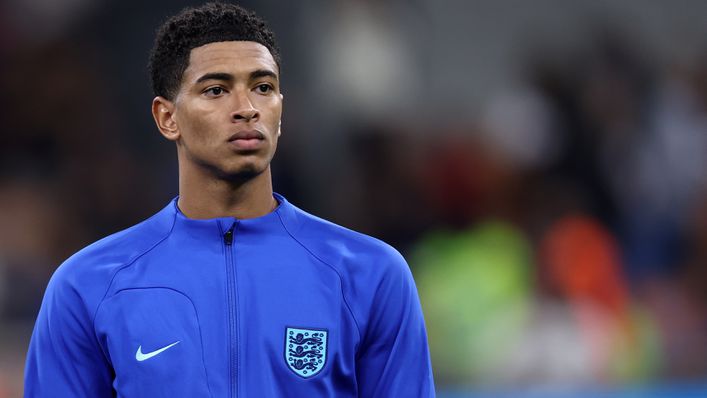 Jude Bellingham is starring in Germany with Borussia Dortmund and being linked with a host of top clubs next summer.
The teenager has established himself as a key player at the Bundesliga side since joining them from Birmingham ahead of the 2020-21 season.
He has also broken into the England set-up, making his debut in 2020 and going on to win 16 caps.
Ahead of the Three Lions' clash with Germany in the Nations League this evening, we take a look at Bellingham's bright future.
Beating his man
Perhaps the greatest of Bellingham's many elite-level skills is his ability to beat his man.
No other player has completed more take-ons than his 21 in the Bundesliga this season and just two have attempted more than his 34.
His technical ability and fearlessness make him a press-resistant player who is dangerous surging forward with the ball at his feet.
Moving the ball forward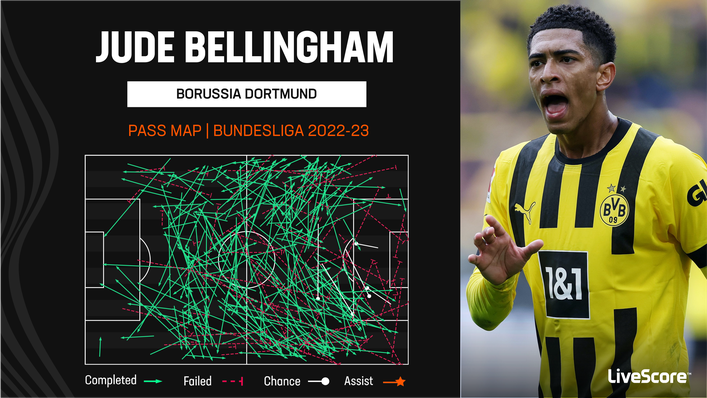 Bellingham is not just creative with his dribbling, however.
The midfielder, 19, is among the best in the Bundesliga at playing the ball into advanced areas, providing a steady supply from the centre of the pitch.
Only Bayern Munich's Joshua Kimmich has attempted or completed more final third passes in the competition than Bellingham's tallies of 141 and 109, respectively.
The teenager also ranks sixth in the division for total touches (537), demonstrating his importance as Dortmund's central creative hub.
Winning the ball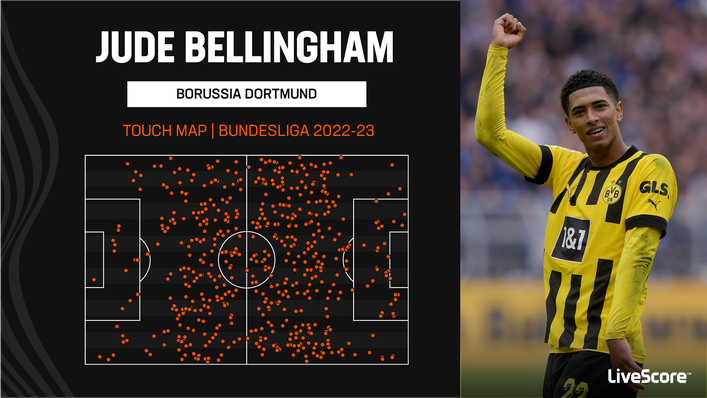 What makes Bellingham so special is his rare blend of qualities both in and out of possession.
It is rare to find a midfielder so blessed with technical ability that also stands out for his ability to win the ball back when his side is on the back foot.
He leads the Bundesliga for possessions won in the middle third this season (39) and ranks third for possessions won in the attacking third (seven).
Additionally, only three players have made more tackles in the competition than his 20.
These are not the numbers of a forward-thinking midfielder begrudgingly doing his bit off the ball — but of a player who offers genuinely outstanding quality in all phases of the game.
'We want him to drive and lead this team'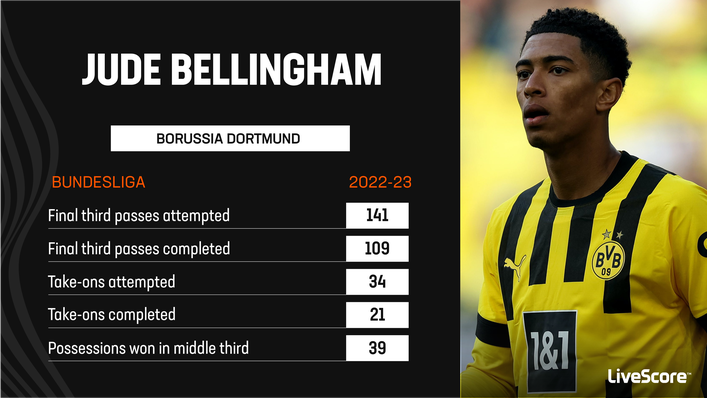 To add to all his talent, Dortmund boss Edin Terzic believes in the young midfielder's leadership skills as well.
Terzic made Bellingham the team's third captain — behind Marco Reus and Mats Hummels — ahead of this season and hailed the teenager's potential.
He said: "He [Bellingham] is only 19. He's not from the area but I find he embodies everything that this region stands for and how we want to play football.
"We want to see our youngsters playing. And it makes no difference to me if he's been with us for two or three years, whether he's 19 or how much he cost. I look instead at what he can bring to the squad.
"Jude has absolutely earned it. I know from my time in England how important being the skipper or club captain is for English players.
"I know it fills Jude with pride but we don't only want Jude to play good football, we want him to drive and lead this team.
"This responsibility was not a gift. First of all, he earned it but secondly, he knows that I want more from him too.
"We speak every day about how he can improve his game not just for himself but also for us. I think he's headed in the right direction, and we're really happy with how he's performed."
What does the future hold?
Since the turn of the year, Bellingham has begun to stake his claim for a regular starting spot in the England midfield.
He has started four of their five Nations League games — although his inclusion has coincided with the Three Lions' poorest spell under Gareth Southgate.
Make no mistake, though — England's struggles are certainly not linked to Bellingham's presence on the pitch.
A player of such unmistakable talent at just 19 must be built around as the Three Lions look to the upcoming World Cup and beyond.
A starting place looks likely for Bellingham in Qatar this winter and — should he continue to impress for club and country — a big move could be on the horizon next summer.
He will certainly not be short of suitors, with Liverpool, Manchester United and Real Madrid among the clubs heavily linked with the midfield star.
Tags