In Focus: Rested Haaland has what it takes to outfire Gunners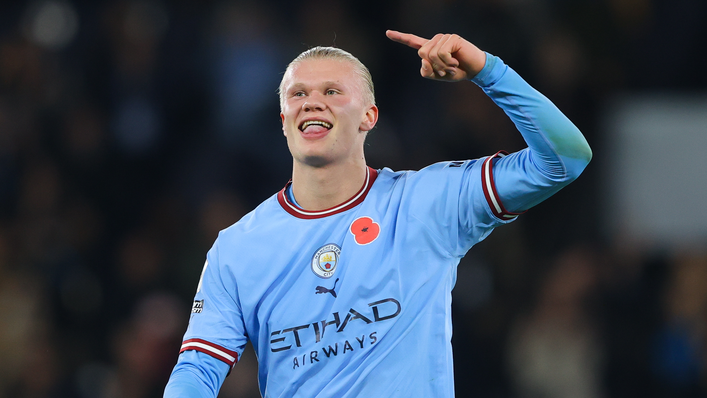 Manchester City trail Arsenal in the Premier League title race — but a rested and refreshed Erling Haaland could be just what they need to charge past the Gunners.
Norway's failure to qualify for the World Cup allowed the centre forward plenty of time to recuperate and he looks ready to resume his rampant goalscoring form.
Haaland scored a brace on Wednesday evening at Elland Road as City beat Leeds 3-1. In doing so, he became the fastest player in the history of the Premier League to reach 20 goals.
Ahead of City's clash with Everton, we assess the striker's chances of maintaining his prolific performances for the remainder of the season.
In a battle
City have been utterly dominant since Pep Guardiola took over at the Etihad Stadium, claiming four of the last five Premier League titles.
But they are in a battle this season. The Citizens are five points behind Arsenal with 15 games played.
City have scored more goals than their title rivals but it is the Gunners who boast a meaner defence.
The two sides are yet to meet in the Premier League this season and the outcome of those clashes could prove decisive.
With Haaland leading their line in such devastating form, City will still remain confident that they can catch former coach Mikel Arteta's men.
Breaking records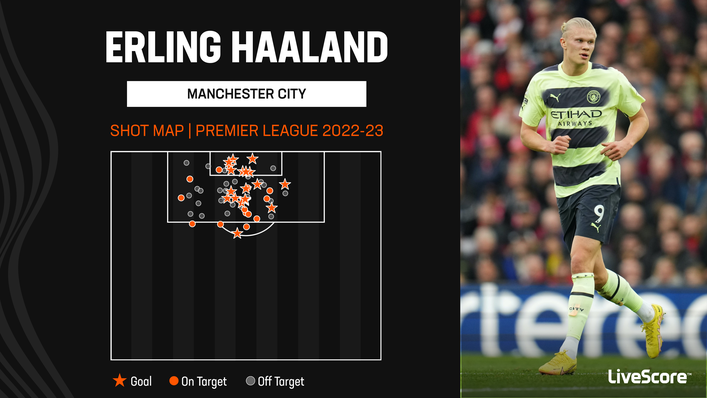 Haaland has been otherworldly since he arrived at the Etihad Stadium.
He has scored 20 times and provided three assists in just 1,131 minutes of football — contributing directly to a goal every 56.5 minutes on average.
Of those 20 strikes, 12 came from open play and three were penalties. Remarkably, Haaland has taken only 60 shots in total — meaning one in three of his efforts have gone in.
The Norwegian is on course to win the Golden Boot and will have his eye on breaking the record for the most goals scored in a single Premier League season (34) — set by Andy Cole in 1994 and Alan Shearer in 1995.
Room to improve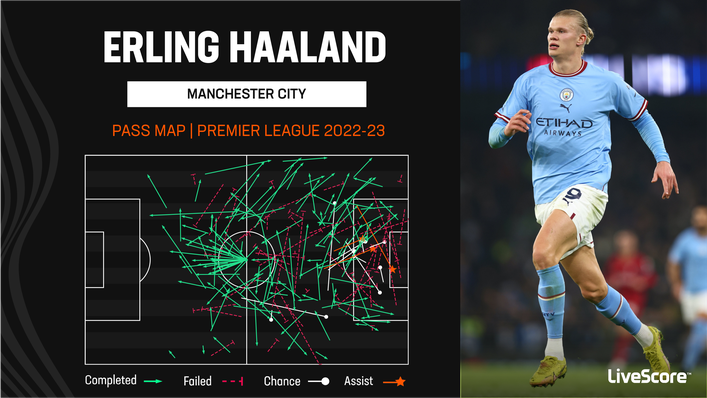 Guardiola revealed that while he is delighted by Haaland's contribution, he believes the Norwegian still has room to improve.
He said: "I think [Haaland] is still not at his best because of the injury, to move his huge body is not easy for him but as much as he can play, minutes will be better. I had the feeling that he is not at his best.
"It is a matter of time. [He is] always an incredible threat for the opponent. The numbers are unbelievable but I have the feeling he is not just coming here for the numbers, he wants to win it.
"Still, there are 70 points to play for. He missed chances, hopefully he can do better, but the numbers are exceptional, an incredible threat for us and always in the right position at the right time."
European ambitions
City are yet to win the Champions League and will have hope the acquisition of Haaland can inspire them to European glory.
The Citizens made it to the final in 2021, only to lose 1-0 to Chelsea. They will hope the presence of their superstar striker will prevent any such heartbreak this time around.
Haaland, too, will be keen to ensure his goals are rewarded with significant silverware as a budding rivalry emerges between him and Paris Saint-Germain's Kylian Mbappe.
The Norwegian can move one step closer to winning the competition when City play RB Leipzig in the last 16 in February.
Targeting the Toffees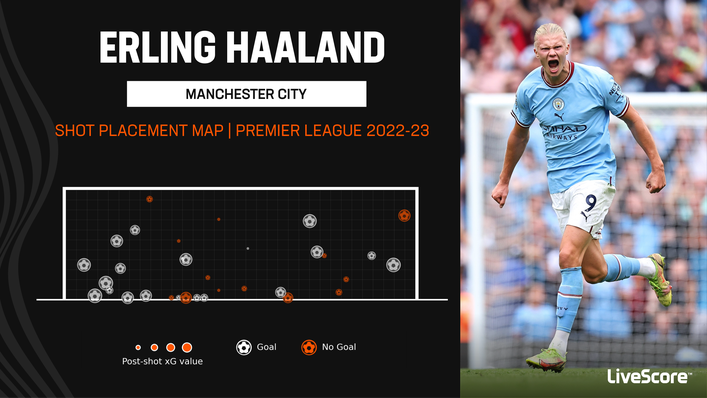 Everton are 17th in the Premier League — just one point clear of Wolves and the relegation zone.
However, the Toffees rearguard marshalled by the centre-back partnership of James Tarkowski and Conor Coady has been strong this season.
Frank Lampard's men have conceded 19 goals in the 16 games they have played — only Arsenal, City, Newcastle and Chelsea have a better defensive record. Their problems are at the other end of the pitch, scoring just 12 times.
Haaland has no such issues in front of goal and will be confident of adding to his tally against the Merseyside outfit.
Tags