In Focus: Martinez glove-in can continue after Qatar heroics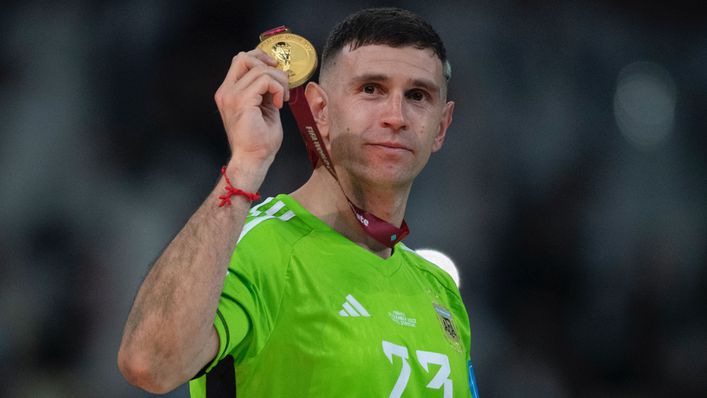 Three years ago on Boxing Day, Emiliano Martinez was Arsenal's substitute goalkeeper in a 1-1 draw with Bournemouth.
Last week, he was one of the stars of the show as Argentina won the World Cup final.
Now considered one of the finest goalkeepers on the planet, Martinez has enjoyed a miraculous career turnaround in a relatively short period of time.
As the 30-year-old prepares to return to duty with Aston Villa in the new year, we take a look at a fascinating journey that proves that it is never too late to reach the top.
In the beginning
Martinez started his career at Independiente in his native Argentina, before moving to England at an early age.
Invited to a trial just after his 17th birthday, the goalkeeper impressed enough to be offered a youth contract by the Gunners.
With the benefit of hindsight, one wonders if Martinez might have fulfilled his potential earlier had he remained in Argentina, where first-team opportunities might have been easier to come by.
Though he made his debut for Arsenal aged 20 following a loan spell at Oxford, establishing himself at such a big club proved a tough task.
By the end of the 2018-19 season, Martinez had only made 14 appearances for the Gunners, along with further loans at Sheffield Wednesday, Rotherham, Wolves, Getafe and Reading.
Late breakthrough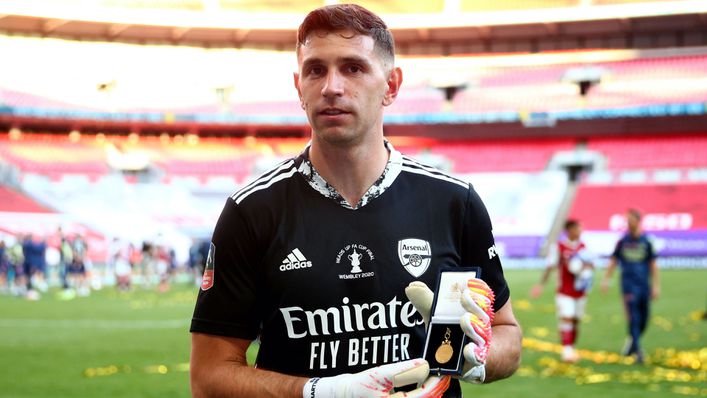 It was the 2019-20 season when Martinez would finally make a major breakthrough at Arsenal.
Towards the end of a campaign that had been interrupted by the coronavirus crisis, first-choice goalkeeper Bernd Leno was injured in a defeat against Brighton. Martinez replaced him from the bench.
It was his first Premier League appearance since the 2016-17 season and Martinez made the most of this rare opportunity.
The Argentine remained in the Arsenal goal for the rest of the season, impressing with his commanding presence in the club's remaining eight Premier League games.
Martinez also had an integral role in their FA Cup success that season. He made some crucial saves as Mikel Arteta's team beat Chelsea in the final and broke down in tears after the game.
Villa move
Having had a taste of the big time, Martinez was in no mood to go back to warming the bench.
At the end of the season, Martinez said: "I have shown the club that I can play for them and when I return next season I need to have more games.
"That is the only way I will stay at Arsenal. My target is to consolidate my place with Arsenal and to reach the Argentinian national team as No1.
"I won't stop until I get that and if I don't play for Arsenal, then clearly I would move on."
Ultimately, Arsenal decided to put their faith in Leno with Martinez joining Villa in September 2020 for a fee of £20million.
It was a questionable decision, with Arteta replacing Leno a year later when he signed Aaron Ramsdale.
Martinez's first season at Villa Park proved to be a big success as he kept 15 clean sheets in 38 games.
He extended his contract with the Midlands outfit until 2027 earlier this year, but it remains to be seen if they can keep hold of a player whose reputation has rocketed.
Argentina success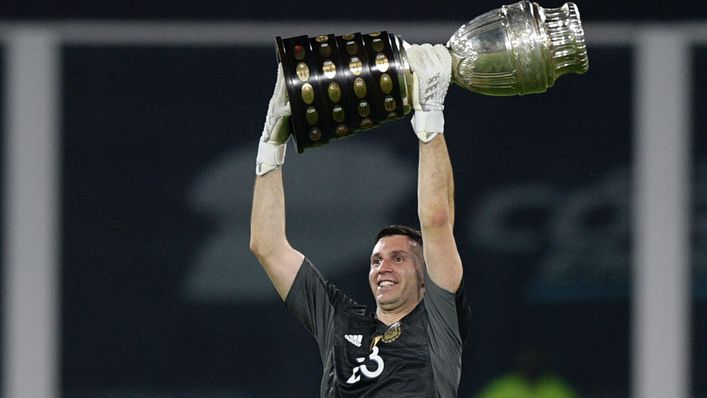 The story of Martinez's international rise has been equally meteoric. First called up to the Argentina squad in 2011 and then again in 2019, without making an appearance, he was eventually given his debut in 2021.
That first game came against Chile in June 2021. Eleven days later he faced the same opponents in the opening match of the Copa America, where he showed his prowess at saving penalties.
Martinez stopped a spot-kick from Arturo Vidal, only for Eduardo Vargas to convert from the rebound.
Yet there were no second chances for Colombia in the semi-finals when the Argentina No1 saved three shootout efforts to send his team through to the final.
He would keep a clean sheet in that showpiece as La Albiceleste beat Brazil 1-0.
Martinez continued his Copa America form at the recent World Cup, saving penalties in both the quarter-final and final, as La Albiceleste triumphed.
Awarded the Golden Glove as the tournament's best goalkeeper, he has come a long way since sitting on that bench at Bournemouth three years ago.
With the likes of Bayern Munich now said to be interested in him, Martinez's remarkable journey could be far from complete.
Tags