Fury accused of being 'scared' after challenging Usyk to 'up the ante'
Joshua Challies
Stats Perform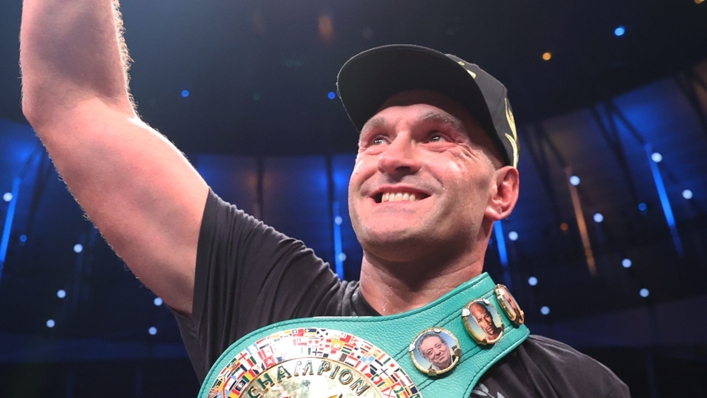 Tyson Fury is "scared" to face Oleksandr Usyk after challenging the Ukrainian to "up the ante", promoter Alexander Krassyuk has claimed.
A late turnaround in the past week saw talks reignite between the two heavyweight champions, sparking fresh hope for a fiercely anticipated unification bout.
Usyk took to social media to accept a 70-30 purse split in favour of Fury, with the WBA stating on Friday it had been informed of an agreement.
Wembley is expected to be the venue for the bout, with April 29 a proposed date, and Fury has now urged his rival to make the fight a one-off event.
Posting a video on social media, he said: "I've been speaking to the lawyers, and Usyk's people have been talking about rematch clauses and all that.
"Here's one to up the ante – how about there is no rematch clause for both of us? Let's up the ante completely.
"Never worry about what's in the future or how many more dollars you can get after you've been defeated. Worry about the fight.
"No rematch clause. Winner takes the glory, the loser goes home. How about that? Agree to that."
However, Usyk's promoter Krassyuk accused Fury of being "scared" with his latest demand and suggested the 'Gypsy King' is looking for a way to pull out of a fight.
"As Usyk said, the greedy belly is still hoping to find a way to pull out. We knew before and know it now," he told talkSPORT. "As soon as Usyk accepts a no-rematch clause, there will still be searching for another thing to find and pull out the fight.
"I tell you why. He bluffed and Usyk called his bluff. This is 100 per cent. He didn't expect Usyk to accept [a 70-30 split].
"He was not in a training camp, and we saw the next morning the theatrical performance that he was pretending to jog and fight someone in the ring.
"It's all about nothing. He's not prepared and scared to fight. He will try to find a way to avoid Usyk for as long as possible.
"We don't trust him, we don't believe him. One more thing to know, when we started the negotiations, Fury's side was the first to ask for the rematch. Fury were the first to ask for the rematch, and we supported this."
Tags