Ibrahimovic dedicates Milan's Scudetto to Raiola
John Skilbeck
Stats Perform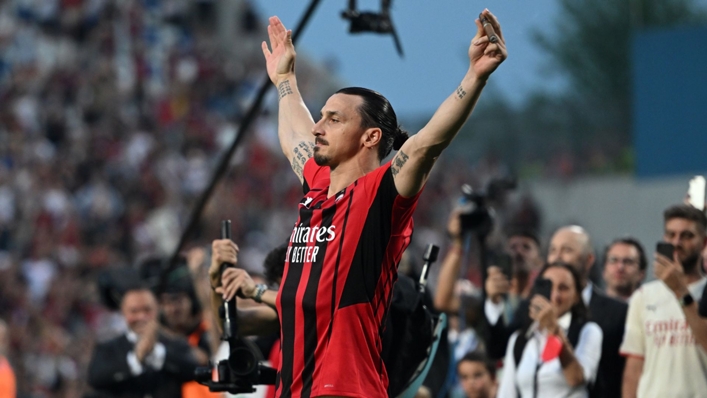 Zlatan Ibrahimovic declared his AC Milan mission accomplished as the Rossoneri were crowned Serie A champions for the first time in 11 years – but the veteran has not ruled out playing for another season.
The 40-year-old Swedish striker embarked on the second spell of his career with Milan in December 2019, and said that was at the behest of his long-time agent Mino Raiola, who died in late April.
Ibrahimovic dedicated his title success with Milan to Raiola, who he said had backed him to lift Milan from the doldrums.
The former Juventus and Inter player's impact at San Siro has been remarkable, with a glut of goals early on serving to lift spirits at the club and set the tone for the success that has followed.
Last season, Ibrahimovic scored 16 goals in 26 games as Milan finished second in Serie A, while this term he has also featured 26 times, albeit starting only 12 games and netting eight times.
The returns have been diminishing and injuries have been a problem, with knee and Achilles trouble disrupting his season this time around, but Ibrahimovic's effervescence continues to be infectious as he proves a positive dressing-room presence.
"When I got back here, I remember a journalist at a press conference saying that usually those who go back to where they have been can do only worse," Ibrahimovic told DAZN after the title-clinching 3-0 win at Sassuolo.
"I replied that I would fight to get the club back up and to win the Scudetto. Nobody believed it, but we are here, we have worked hard and made many sacrifices, proving that thanks to work nothing is impossible."
Ibrahimovic was Milan's main man when they won the 2010-11 Serie A title, having previously been a table-topper in Italy with Juve and Inter. He has since starred for Paris Saint-Germain, Manchester United and LA Galaxy, where it was widely assumed he was winding down his career, albeit with a glut of goals. The return to Milan has proved otherwise in that regard.
He recognised his playing efforts this year had been less influential than in the past two campaigns, and his contract is due to expire next month.
"But I think I have been useful to this group off the pitch," he added.
Milan collected gained 86 points in Serie A this season, and only in 2005-06 (88 points) have they managed more in the era of three points for a win.
Speaking about Raiola, Ibrahimovic said: "The dedication is to Mino Raiola. This is the first trophy I have won without him.
"When I returned to Europe, I was close to Napoli, and then I asked him where I could go to make a difference and he replied that only I could save Milan."
Ibrahimovic puffed on a cigar and celebrated with champagne after Milan secured the Scudetto. If that suggested a sense of finality, Ibrahimovic seemingly did not intend it that way.
He will have his body checked out now the season is over, and said: "If I'm fine, this wasn't my last match. I'll consider whether to have surgery."
Tags