Zaniolo hits out at Roma for treating him as a 'capital gain'
Peter Thompson
Stats Perform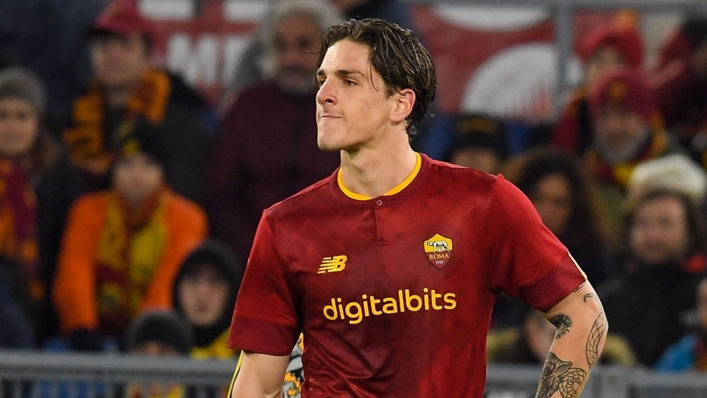 Nicolo Zaniolo hit out at Roma for "unfulfilled promises" and treating him as a "capital gain" after he joined Galatasaray last month.
Zaniolo left the Eternal City giants to join the Turkish Super Lig leaders for a fee €16.5million early in February.
The Italy midfielder had been expected to move on during the January transfer window, but he turned down a move to Premier League strugglers Bournemouth.
Zaniolo signed a four-year deal with Galatasaray after being left out on in the cold at Roma and the 23-year-old has pointed the finger at his former club over the way he was treated.
He told the Gazzetta dello Sport: "I could talk for hours about unfulfilled promises. They [Roma] told me I was a spearhead, instead I've always been considered just a capital gain.
"For two years I was told that the new contract was ready. In January of last year I would have signed for slightly more than what I was earning, because I was fine in Rome and I knew there were problems with Financial Fair Play. After much talk I'm bored. If I have to reflect on my farewell, I think others must do it too."
Zaniolo was hurt by being called a traitor.
He added: "It's something I'm very sorry about. Roma gave me everything, thanks to Roma I won and I made my debut for the national team, my son was born there. Being labelled that way was a big blow."
Zaniolo continued: "The truth will come out. I'm just saying that I've always trained, even if not with the others."
Much was made of a supposed fall-out between Zaniolo and Jose Mourinho, but the playmaker has no problem with the Roma head coach.
"He's a great coach and a great person," Zaniolo said of his old boss. "He made me play almost always. Sure, he's used to managing star players and I wasn't [one]. I would have liked to have him in four or five years, but he gave me so much anyway."
Tags