Xavi thrilled as court overrules LaLiga to allow Gavi contract registration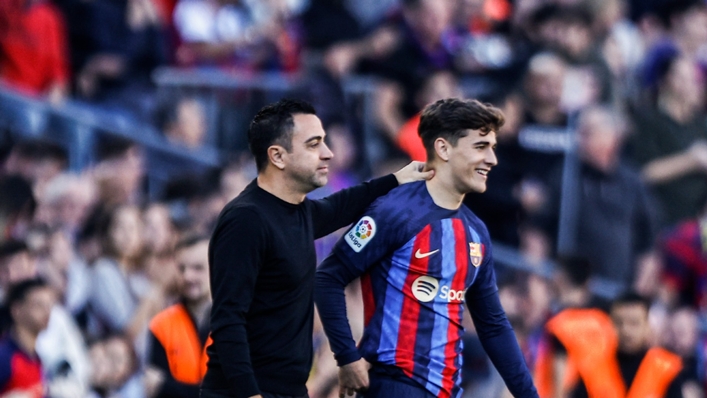 Barcelona coach Xavi applauded the decision by a court to overrule LaLiga's refusal to register Gavi as a first-team player.
The Blaugrana midfielder, who has been in superb form for the club this term, signed a new contract in September that saw him recognised as a first-team player rather than a member of the B team.
But LaLiga denied the registration of the new deal due to the club's financial situation, with Barca exceeding their salary cap.
While Gavi could continue playing this season for the senior side as a B team player, he would have been registered in LaLiga on a contract that expires in 2024 and has a €50million release clause – the agreement he signed in September is until 2026 with a €1billion release clause.
LaLiga president Javier Tebas warned the club would still be unable to register Gavi and other players such as Ronald Aruajo because they have "a deficit of more than €200m", he claimed on Monday.
But now a court decision has quashed LaLiga's ruling, delighting Xavi and paving the way for the 18-year-old to be fully registered as a member of their senior squad.
"It's great news," Xavi said. "It was one of the objectives we set for this transfer window. Now the ball is in LaLiga's court.
"I'm happy for [Gavi]. We hope he can sign up. It's very good news for us. The priority is that players as important as him are insured. It seems that we can now enrol him.
"I don't see him changing teams, really. He is very happy and happy here. I don't see him leaving."
Asked whether he felt Tebas holds ill feelings towards Barca, Xavi added: "I don't know. Ask him.
"I know him very little. I have greeted him twice. I have no personal dealings with him."
Gavi has made 18 appearances for Barca this season in LaLiga and featured in five of their six Champions League games as the club dropped into the Europa League.
He also played four times at the World Cup last year.
Tags