Xavi credits change in mentality for Dembele's improved form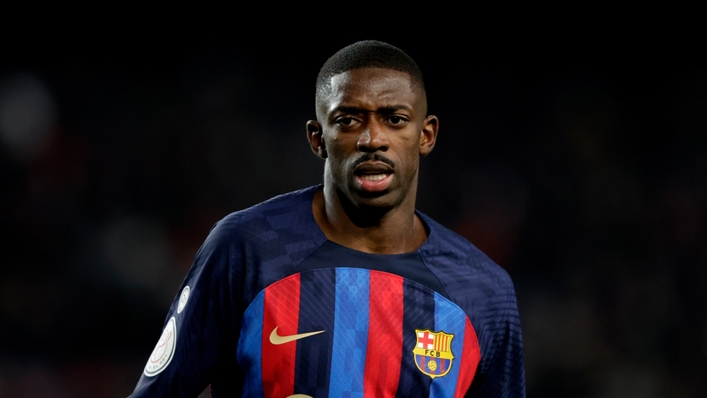 Xavi credited Ousmane Dembele with changing his mentality in order to discover the form he has shown for Barcelona this season.
Barca reached the semi-finals of the Copa del Rey thanks to a second-half strike from Dembele to beat Real Sociedad 1-0 at Camp Nou, aided by the sending off of La Real midfielder Brais Mendez late in the first half.
Dembele attempted 11 dribbles during the game, equalling the highest total by a Barca player in a game this season, which came from the French winger himself against Viktoria Plzen in the Champions League.
Speaking to the media after the win, Xavi said that filling Dembele with confidence is the major difference from the player he inherited when he took charge of the club in November 2021.
"The only thing we have given Ousmane is confidence. I believe a lot in him," the Barca head coach said.
"I always think he can generate many things for us. I see the faces of the full-backs and they suffer. The only thing that had to change was his decision-making at the last moment.
"I'm very happy for him because he got the winning goal. I think he's enjoying it and he's managed to turn his situation around.
"We try to guide Dembele so he makes the best decision on the field. I see tremendous conditions for him and he continues to be one of the best in his position.
"At Barca you have to have the ability to change your mentality and believe it, and I think at this stage he is succeeding. I see him very happy."
Dembele has been involved in 15 goals for the Blaugrana this season (eight goals, seven assists), already equalling his record of last campaign (two goals, 13 assists), while only Robert Lewandowski (27 – 22 goals and five assists) has been involved in more among Barca players.
The hosts dominated much of the quarter-final on Wednesday, though were grateful to Marc-Andre ter Stegen for making a vital save from Robert Navarro late on.
"The game at the end was complicated for us, where Ter Stegen saved us," Xavi added. "This is football and we have to learn, but we cannot end up suffering like this.
"We have dominated Real Sociedad with 11 [players], a team who had just won nine games in a row. The feelings are very positive and we are where we wanted to be, but we want to improve our effectiveness and we want to close games earlier."
La Real boss Imanol Alguacil said he was "annoyed" by Mendez's red card, suggesting the incident in which his player caught Sergio Busquets' ankle with his studs did not warrant overturning once the referee had initially decided on a yellow card.
"I don't like to use the word pride, because that means we lost," he said. "But today the sending off marked us... I think we have to value the effort of the team since we have had very clear situations and we have competed even with one less player.
"In the last 10 minutes the draw was much closer than 2-0."
Tags