Xavi says Barcelona consider Griezmann an Atletico player as potential legal battle looms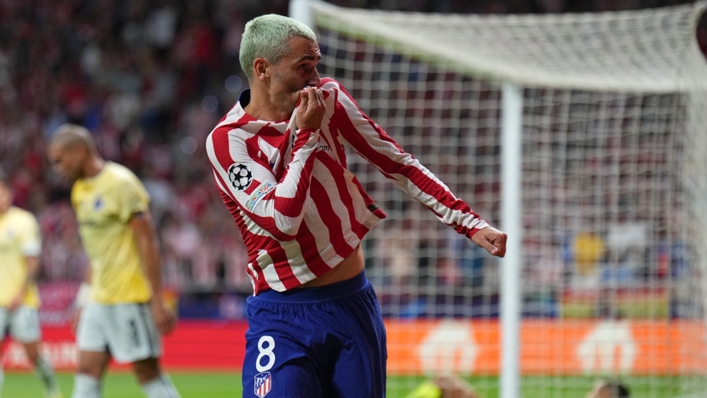 Xavi said Barcelona expect Antoine Griezmann to make his Atletico Madrid stay permanent amid reports the Catalan giants could take legal action if los Colchoneros fail to purchase the forward.
Griezmann is midway through a two-year loan spell at Atleti, but Diego Simeone recently suggested his minutes were being managed in order to avoid activating a purchase clause in their deal with Barcelona.
The France international – who scored a 101st-minute winner in Atleti's Champions League opener against Porto on Wednesday – has made four substitute appearances in LaLiga this season, totalling just 109 minutes on the pitch.
On Friday, reports suggested Barcelona could take legal action over Atleti's reluctance to purchase Griezmann, after he featured more regularly in his first season on loan in the Spanish capital.
Asked about Griezmann's situation ahead of Barcelona's trip to Cadiz, Xavi said: "This is a question for Cholo [Simeone], who has already made it clear that he is a club man.
"It is not an issue for me. Look, we have held meetings with the club, talking about players, but I have not spoken with Antoine's club. I can't do anything else."
Pressed on whether he would welcome Griezmann back to Camp Nou, the Blaugrana boss said: "It's a club issue, it's not up to me, the clubs must talk.
"In fact, we think that he is already an Atletico Madrid player."
But Simeone was reluctant to comment on the forward's future ahead of Atleti's meeting with Celta Vigo, declaring: "I have been very clear on a day-to-day basis on this matter.
"It's been four dates and I've always said the same. I have nothing more to add."
Referencing the club hierarchy's apparent desire to hold Griezmann back, he then added: "Where the captain commands, the sailor does not command."
Tags