Xavi backs 'key' Busquets amid questions over Barcelona future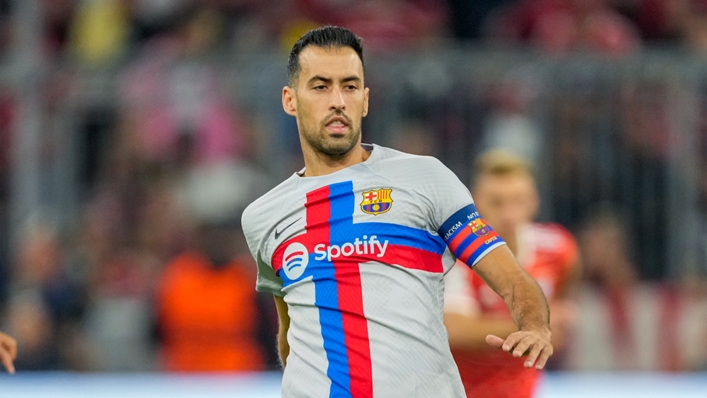 Barcelona boss Xavi has played down concerns over the future of captain Sergio Busquets, insisting the Spain international remains "key" to his plans at the club.
A difficult start to the season for the 34-year-old, including a red card against Rayo Vallecano, seems to have stoked further suggestions this campaign could be his last at Camp Nou.
With Barca still likely to need to cut their cloth accordingly amid their financial struggles, the Spain skipper could well be one key man to depart next year.
But the defensive midfielder has publicly downplayed a definitive answer on his future, and speaking ahead of his side's clash with Mallorca, Xavi reiterated that no decisions have yet been made.
"Busquets has said publicly that he hasn't decided anything," he stated. "He will make a decision at the end of the season and for me, he continues to be key."
With domestic and European concerns to field, Barca are set to enter a major period of fixture congestion, with a dozen games crunched into the month-and-a-half stretch ahead of the Qatar 2022 World Cup.
Several of Xavi's fellow coaches across the continent have voiced their displeasure at the intense calendar, but he is instead focusing on the need to take as many points as they can at home and abroad.
"We have 12 games until the break for the World Cup," he added. "It's a momentous stretch of the season. All games are going to be very important.
"Tomorrow we have to win and show our character. We have to show our strengths."
Barca will move into an enforced break this term thanks to the mid-season winter staging of the World Cup in Qatar, adding another tough dimension to an already gruelling campaign.
With FIFA having mooted plans in recent times to potentially expand the tournament to a biennial staging, Xavi feels there should be no further restructures or moves from its traditional off-season berth.
"FIFA plans to organise the World Cup every two years," he added. "Now we have the World Cup in Qatar during the winter period.
"I think it would be better if the tournament is compiled at a separate time. Then the other time is allocated to the clubs."
Tags