Wrexham coach Jones claims his side can cherish Premier League dream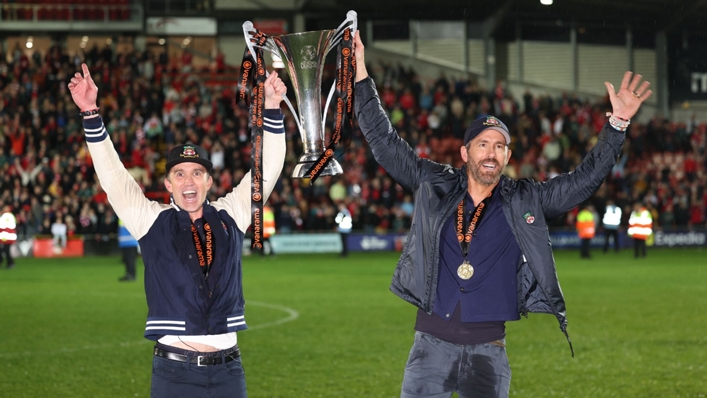 Wrexham's first-team coach David Jones does not see why the club cannot dream of achieving Premier League status following their promotion from the National League.
The Welsh outfit ended a 15-year exodus from the English Football League with promotion to League Two this season, Phil Parkinson's men finishing as champions with a record 111 points.
Under Hollywood owners Ryan Reynolds and Rob McElhenney, the Red Dragons have experienced an explosion of fortunes both on and off the pitch.
Any prospect of top-flight football is still several seasons away at the very least, but reflecting on their impressive rise, Jones does not see their hopes as fanciful.
"I think with the way that the owners have come in and started to put infrastructure in the club, they're doing it the right way," he told Stats Perform.
"The way that they've got that connection with fans, with players, they've really got together [and] united the whole club.
"Anything's possible, especially with these owners and what we've witnessed in the last two years.
"Obviously, we're not naive enough to say that it's not going to be a difficult challenge to get to the Premier League.
"Many teams try and do it every year, and they're already in the Championship, investing huge sums of money. There's no guarantee of anything in football.
"But with the current manager and the staff that he's put in place, they're experienced football guys who know what it takes to get promoted and get through the leagues, and what the club needs to progress.
"If those things are in place, you stand a better chance of success. I think it's a realistic aim, if we keep doing the things that we've been doing for the last couple of years."
Eyebrows were raised when actors Reynolds and McElhenney took over at Wrexham, but any fears the move was a mere publicity stunt have abated amid the club's revival.
Jones applauded the owners for uniting the city, highlighting how they have not sought to cut corners in helping to turn matters around after a decade-and-a-half in the doldrums.
"With that kind of energy, anything's possible," he added. "From the word go, they've done everything the right way. They've done fantastically.
"To be able to enter the football world and to be able to have the impact they have done is very difficult. Sometimes it's a closed shop, and if you don't speak the football language it is difficult for people to have to buy in.
"The way that they've done things, they have the respect of everybody. I can't speak highly enough of the job they've done."