Wiegman emphasises team effort in England tournament success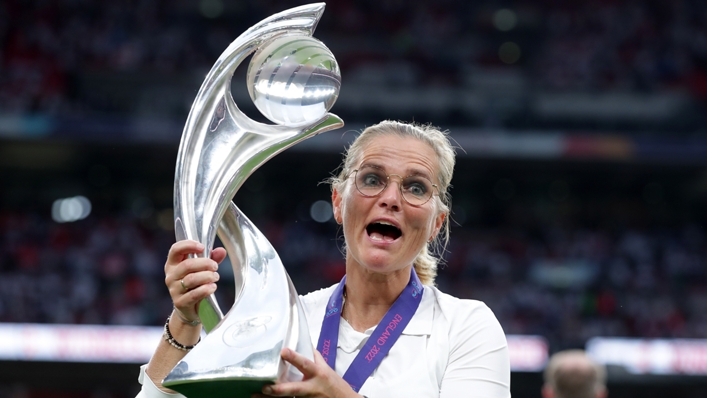 Sarina Wiegman paid tribute to the players, who interrupted her media conference, and the staff as she celebrated guiding England to success in the Women's European Championship final.
The Lionesses overcame Germany 2-1 after extra-time at Wembley, with substitutes Ella Toone and Chloe Kelly scoring either side of Lina Magull's equaliser.
The win means that Wiegman has won back-to-back Euros, having lifted the 2017 trophy while in charge of her native Netherlands.
Speaking at a media conference after the trophy celebrations, Wiegman said: "What we have done is really incredible. I didn't follow everything [in the media] but I knew that England was behind us.
"Over the tournament we have had so much support from our fans. I am so proud of the team, the staff, and the support at The FA."
Wiegman has won all 12 of her matches in charge at the Women's Euros, with her teams scoring 35 goals and conceding just five in the process.
She was asked what made the difference in what had been a tight game at Wembley Stadium, but before she could answer she was interrupted by the entire England squad coming into the room and dancing around, singing "Football's coming home".
After composing herself, Wiegman was asked if football had come home, to which she replied: "We won the cup, I guess 'home' is in Switzerland [UEFA HQ] or wherever."
She also revealed her celebration tipple, saying: "For the first time in years I had a beer. I don't [usually] like it but I drank it, and I liked it too."
Wiegman added that she would need some time to process that she has won two Euros tournaments, and also revealed that she kissed her wrist after the win as a tribute to her late sister, before crediting her for Germany hitting the woodwork in the second half.
"After we had the trophy, I thought 'this is really incredible'… I think I need some time to realise [winning two in a row].
"The armband on my wrist, it was my sister's, who passed away… I think she was here and she was on the crossbar."
The Lionesses manager also revealed what is next for her European champions, saying: "First, we are going to party.
"We should be really proud of ourselves, the development of this game has gone so fast that many countries could win this tournament. Germany, France, Spain, Sweden, even more countries. So it's not easy to win this tournament.
"Now it's time to party, have some time off, then prepare for the World Cup qualifiers and go again."
Tags