Voss-Tecklenburg unhappy at being denied penalty in final defeat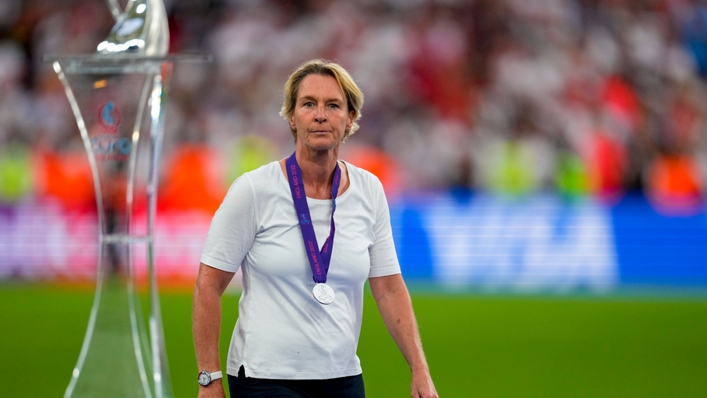 Germany head coach Martina Voss-Tecklenburg was not happy with the decision not to award her team a penalty in their Women's European Championship final defeat to England at Wembley Stadium.
The Lionesses made history on Sunday with their 2-1 win in extra-time, winning their first major trophy for the women's team.
However, Germany were denied a penalty in the first-half when a goalmouth scramble appeared to see the ball hit an England hand, but a VAR check waved away the claims.
Speaking at a media conference after the game, Voss-Tecklenburg said: "First half, possession was better for England so they put more pressure on us, we got a few free-kicks that sometimes lacked courage, but we managed to have some attacks.
"There was a situation at 0-0 where there was a clear handball in the penalty area. The VAR looked but didn't award it. In such a game it's difficult to cope with that. Why didn't the referee look? That hurts a bit."
The German coach was still proud of her team's efforts, as they forced extra-time thanks to a Lina Magull equaliser.
"We wanted to play courageously in the second half, challenge the defence more and play with a high press. We did very well at the beginning of the half, but when we actually had the ball more, we conceded the [first] goal.
"We equalised and got to extra-time. Losing 2-1 was a bit unlucky, so maybe the penalty was decisive.
"We congratulate England, deserved champions. If you score two against Germany you deserve it."
Voss-Tecklenburg's plans were thrown into chaos when star striker and captain Alexandra Popp withdrew from the starting XI before kick-off.
She explained that Popp, who scored six goals in the tournament, had picked up a knock in training on Saturday and tried to play, but admitted in the warm-up that she could not shoot.
"We tried everything," the Germany boss explained. "Yesterday we got a surprise at the end of the final training that there were some problems. We didn't expect that.
"Yesterday evening we thought about it and medical staff tried everything. She was better this morning but it was clear that she had to agree, so I trusted her, and when she said during the warm-up she felt something, couldn't shoot, I had high respect to her to say she won't play in a final. She has a great personality."
Voss-Tecklenburg pointed to the noise in Wembley, saying the crowd of 87,192 – a new attendance record for the Euros, men or women – had an impact on her team.
"It was incredibly loud, difficult to communicate, but this will help us in future," she said.
"We gave our all, not everything worked, but all the fight and energy we gave was nice. Sad [to lose] and I cannot find the right words to say to the team. I just have to process it.
"Maybe tomorrow or after I will have a different feeling about it."
Tags