Wiegman: England must put past semi-final disappointments aside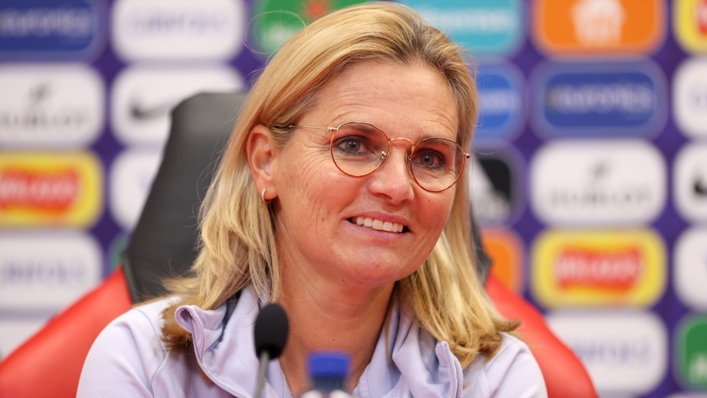 England must focus on the present if they are to end their semi-final hoodoo when they take on Sweden in the last four of the Women's Euros, says Sarina Wiegman.
The Lionesses will contest their fourth straight semi-final at a major tournament at Bramall Lane on Tuesday, having reached the stage in successive World Cups either side of the 2017 European Championship.
England have featured in five previous Euros semi-finals and only progressed from two of them, in 1984 and 2009.
Wiegman, who is yet to taste defeat in 18 matches in charge of England, wants the team to forget their previous defeats as they look to close in on a first major trophy.
"I think it is necessary to be in the now and I do think you always have to learn from your experiences and take out the things you can take out to be better, become better or to learn," said Wiegman in a pre-match news conference.
"But it's no use now to talk about that all the time because it's now. It is now. So why should we talk about that all the time?
"We first have to play a semi-final and that's the only thing that counts. Again, we're in the now. All the focus is on our game against Sweden – that's the only thing we talk about.
"How do we want to play? How do we collaborate as a team? How do we try to exploit their weaknesses, take out their strengths and use our own strengths? That's the only thing we're talking about.
"I think reaching the semi-final has been really great already and we saw that we brought a lot of inspiration.
"But I think our fans gave us a lot of inspiration too. We are only focused on tomorrow and that's what it is, and we hope we get the result we want.
"The England team is ready to play the best game against Sweden, and hopefully we can inspire the nation."
Millie Bright scored an own goal in the Euro 2017 semi-final loss to the Netherlands and was sent off as England fell to the United States in the last four of the 2019 World Cup.
She said: "We are on a new journey. It's a new path for us as a group. Like I said, [we've got] different players in, so for us it's kind of a fresh slate almost and again we focus on the here and the now.
"The position we are in as a squad going into this game is that we are in a very good position and we are ready to fight. Everyone is feeling great."
Tags