Williamson says England's history-making 'kids are all right'
John Skilbeck
Stats Perform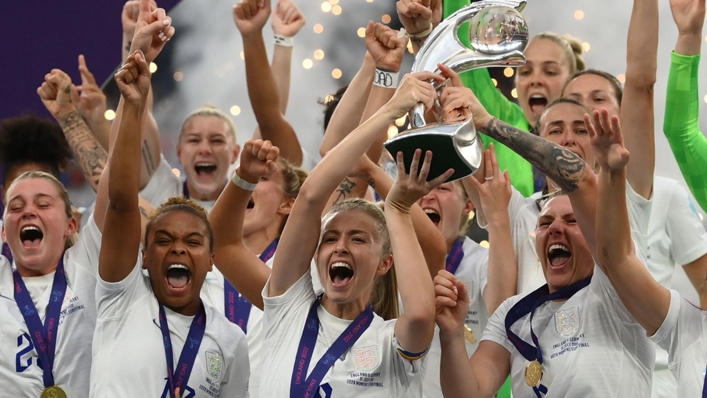 Captain Leah Williamson described England's Euro 2022 final victory over Germany as "the proudest moment of my life".
A gripping showpiece at Wembley on Sunday saw England scrape a 2-1 victory after extra time, with substitutes Ella Toone and Chloe Kelly getting the goals for the hosts.
Williamson lifted the trophy as a record crowd of 87,192 saluted the first-time champions, who have been steered to glory by Sarina Wiegman, the manager who led the Netherlands to the win the European Championship five years ago.
"I just can't stop crying," said Williamson in a pitchside BBC interview.
"We talk and we talk and we talk, and we finally do it. It's about doing it on the pitch, and I tell you what – the kids are all right!
"It's the proudest moment of my life until the day I have kids I suppose, so I'm going to lap it up.
"I was advised to take in every single second because you're going to want to relive it over and over, and I'll be reliving that for a long time.
"The legacy of this tournament is the change in society. It's everything that we've done. We've brought everybody together. We've got people at games, and we want them to come to WSL [Women's Super League] games, but the legacy of this team is winners and that's the start of a journey.
"I love every single one of them. I'm so proud to be English."
As England celebrated their finest hour, Lionesses legend Alex Scott revealed top clubs in England had refused to allow their stadiums to be used for the European finals, and said any johnny-come-lately sponsorship hopefuls had probably already missed the boat.
Scott and Ian Wright, both working as pundits, spoke of their hopes for how the women's game could continue to grow, with Wright making an impassioned plea for those charmed by the England team over the past four weeks to get out to club games.
And Scott, a member of the England team who lost 6-2 to Germany in the Euro 2009 final, took a swipe at those who in her view had done women's football no favours.
Scott: "Let's remind ourselves that in 2018 we were begging people to host in their stadiums a women's game for this Euros. So many people said no. I hope you're all looking at yourselves right now because you weren't brave enough.
"I'm not standing up at corporate events in front of sponsors any more begging for them to get involved in the women's game, because you know what, if you're not involved you've missed the boat, you've missed the train. Because look at this: it has finally left the station, and it is gathering speed."
Beth Mead was named player of the tournament and won the Golden Boot, pipping Alexandra Popp on an assists tie-breaker after they finished level on six goals. Popp missed the final through injury.
But it was not Mead who was the hero in the final, as England's substitutes stepped up again.
Toone, who lobbed in a brilliant opening goal, is among the young players set to play a huge part in the future of the England side.
The 22-year-old Manchester United forward said of Sunday's success: "It doesn't seem real. I'm absolutely buzzing my head off.
"It's the best moment of my career, the best moment of my life ever. I'm absolutely on top of the world and I'm so proud to do it with these girls."
Tags