Fuming Arsenal boss Eidevall points the finger at VAR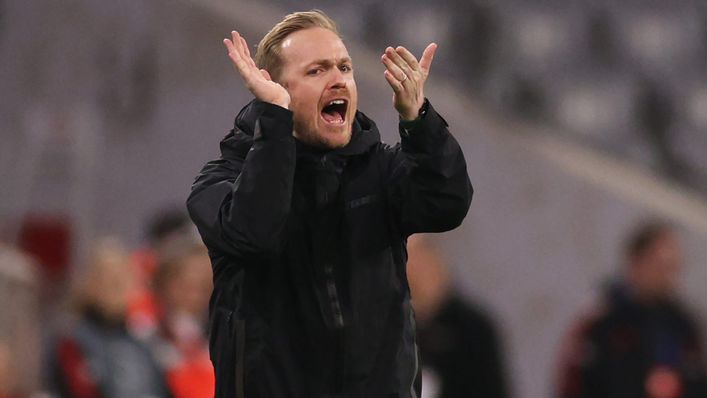 Jonas Eidevall could not hide his disappointment after Arsenal slipped to a 1-0 defeat at Bayern Munich last night.
The Gunners boss was less than impressed with the VAR official as his side were sunk by a first-half header from Lea Schuller at the Allianz Arena.
But Eidevall is confident they will bounce back in the second leg of their Women's Champions League quarter-final, which is set to be played in front of a bumper crowd at the Emirates.
Speaking to arsenal.com, he said: "Part of me is very angry. I am not sure whether VAR was working.
"Otherwise, it was someone who was sitting and not looking at the pictures because there were clear and obvious penalty situations — two of them.
"I think that is unacceptable."
Arsenal created a number of opportunities but were denied by goal-line clearances and the woodwork as Bayern ultimately did enough to record a 13th successive victory in all competitions this season.
Eidevall, 40, added: "Our players were really good, we were really brave on the ball and we represented Arsenal in such a good way in the second half.
"We are proud of that even though we are very disappointed with the result. We are going to do everything in our power to turn it around next week.
"Part of me is proud because it was a really good performance but part of me is disappointed because we need to be more efficient with our chances."
Looking ahead to the deciding game in North London next Wednesday, Eidevall said: "We need to score a goal! At least two.
"But Bayern are a very, very good counter-attacking team. A little bit of you feels danger when you attack because you know they can hit you on the counter.
"But you need to be brave on the ball, make good decisions and keep them low down the pitch."
Eidevall was delighted to see more than 200 Arsenal fans make the trip to Munich and cannot wait for his side to be roared on at the Emirates.
He added: "Our supporters were brilliant. Just like the performance from the team, the supporters were brilliant.
"With our fans at the Emirates, we have a great chance."
Tags