Wilshere considering options after departing Danish club AGF
Liam Phillips
Stats Perform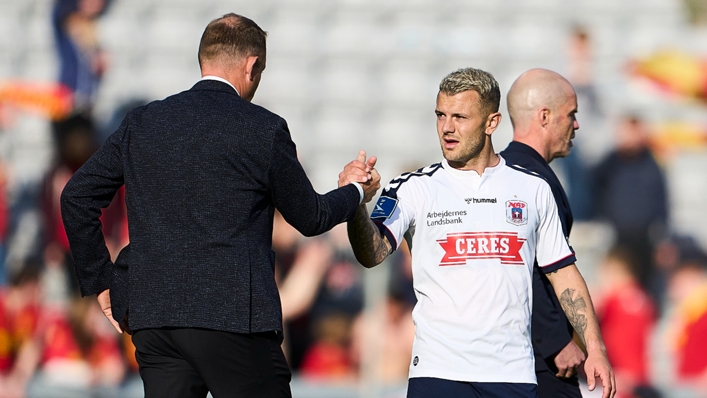 Jack Wilshere is "considering all of my options" after the midfielder and Danish Superliga club AGF decided to mutually part ways after five months.
The former Arsenal player arrived with the club in February on a short-term deal until the end of the season, making 14 appearances for the club that finished one point clear of relegation.
Wilshere, 30, had been without a club since being released by Bournemouth following the 2020-21 Premier League season and had been training with both the Gunners and Serie B club Como in an effort to stay sharp.
In an Instagram post on Wednesday, he thanked the Danish club for taking a chance on him and providing an opportunity to play once again.
He said: "My time at [AGF] has come to an end. Myself and the club have mutually agreed it's best for me to move on.
"I would like to thank everybody at AGF for the support and confidence they gave me from day one. The club showed trust in me that not many others were willing to give.
"Although results were hard to come by, the fans' support of me and the team was unbelievable. Thank you guys for welcoming me into your club and city.
"I wish you all the best in the future. Personally I am considering all of my options."
AGF released a statement saying they "benefited from Jack Wilshere's great footballing and human qualities" and that "there has subsequently been a dialogue on continuing the co-operation, but after careful consideration, the parties have jointly come to the conclusion that the agreement will not be extended".
AGF's sporting director Stig Inge Bjornebye added: "We all want to thank Jack for the time he has been in AGF.
"It has been a great pleasure to work with him and experience him and share his experiences from a very nice and special career."
Tags