Westbrook responds to damning Johnson assessment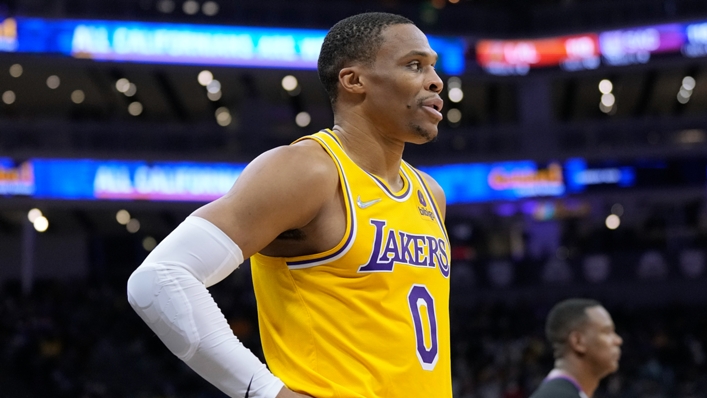 Russell Westbrook accepts Magic Johnson's damning assessment of the Los Angeles Lakers' form, but says the legendary figure does not know what is going on internally.
The Lakers slumped to a third defeat in a row with a heavy 133-96 loss at the hands of the Denver Nuggets on Saturday.
Frank Vogel's side, who were without injured Carmelo Anthony for a third straight game, now have a 21-22 record for the season and are seventh in the Western Conference.
The defeat to a Nikola Jokic-inspired Nuggets was the second biggest of LeBron James' 19-year career, and one fellow Lakers icon Johnson felt showed a lack of effort.
"After being blown out by the Nuggets, we as Lakers fans can accept being outplayed but we deserve more than a lack of effort and no sense of urgency," Johnson tweeted.
"Owner Jeanie Buss, you deserve better."
Westbrook, who scored 19 points on 7-for-15 shooting, did not want to be drawn into a war of words with Johnson when asked for his reaction to the social media post.
"I do not have a reaction," he said. "Everybody is entitled, in this world, to their opinion – regardless of what that it is.
"You can either take it and run with it or you can take it and put it in one ear and out the other or you cannot respond to it.
"Magic's entitled to his opinion. And he's not here every day. He's not around us every day. He's not aware of what's going on internally with us and trying to figure things out.
"But I have no response to that. Like I said, everyone in this world is entitled to their opinion and that's that."
Reigning MVP Jokic recorded another triple-double as the Lakers slumped below .500 again in their defeat to the Nuggets.
Jokic finished with 17 points, 12 rebounds and 13 assists as Denver piled on 73 first-half points before restricting the Lakers to only 36 points in the second half.
And on the back of a humiliating loss, Westbrook concedes his side have to step up ahead of back-to-back home games with the Utah Jazz and the Indiana Pacers.
"We just got to play hard," he said. "Sometimes, the schemes and how you play doesn't really matter.
"You got to just play hard sometimes. Teams are playing harder than us, simple as that."
Dwight Howard, whose average of 5.4 points-per-game through 33 outings this season is the lowest of his career, echoed the thoughts of Westbrook.
"It's not too much I can really say about it. We've been saying it all year. I shouldn't have to keep saying. But, you know, he's right," Howard said.
"You can't stop believing that you're gonna win and just say, 'Ah, f**** it, let's give up.
"We know we've put ourselves in a pretty tough predicament, but all it takes is a couple games and some good energy and some positivity. We've just got to stay positive."
The Lakers' 37-point loss to Denver was their largest ever in this fixture and follows defeats to the Memphis Grizzlies and the Sacramento Kings in the past week.
"We've got to get back to the drawing board and get our defense right," head coach Vogel said. "We haven't performed well enough in the last two games on that side of the ball."
Tags