West Ham fans praised for their behaviour in Prague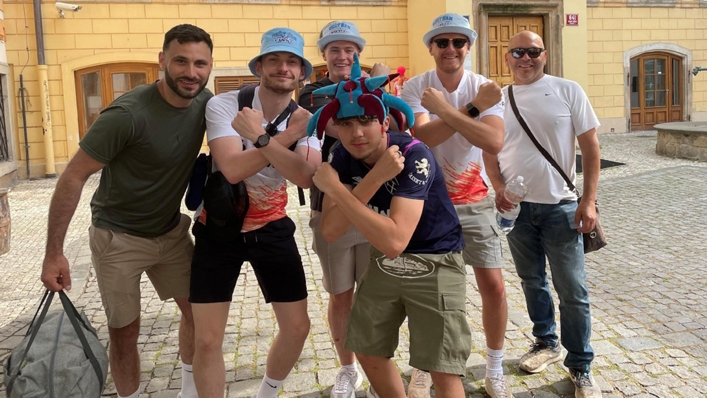 West Ham fans were "a credit to their club" according to a Prague bar owner, while one supporter will have to break the news to his wife-to-be that their forthcoming wedding will only be the second best day of his life.
West Ham ended a 43-year wait to win a trophy when they defeated Fiorentina 2-1 in the final of the Europa Conference League on Wednesday night.
Only 5,000 Hammers fans had tickets – although considerably more were inside the Eden Arena – while another 20,000 headed to the Czech capital just to be present for the historic match, the club's first European final since 1976.
The game itself was slightly marred by one West Ham fan throwing a missile at Fiorentina captain Cristiano Biraghi, leaving him with a nasty gash to the back of his head.
But Paul Smith, 42, owner of The Dubliner pub in Prague's old town where hundreds of Hammers fans converged, did not have a bad word to say about the cockney invasion.
"I was a little bit worried, because the last team we had over was England a few years ago, and that didn't end very well," said Smith, from Dublin.
"There was a riot outside in the courtyard, there were about 3,000 England fans and a few started throwing bottles at the police and then there was tear gas and plastic bullets.
"But I have to say the West Ham fans are a credit to their club. They were as good as the Scots were, the Irish and the Welsh when they came over.
"All I can say is fair play to them. There was a huge number of fans in the city. I was worried when I heard numbers of 30,000 being mentioned.
"I walked out on to the square yesterday and it was pretty full, flags everywhere, and they were just nice from start to finish.
"It's been a pretty profitable week. And the icing on the cake was West Ham winning. It's just a shame so many of the fans didn't have tickets.
"But they didn't look like they were too disappointed when they were celebrating. It was great."
Jarrod Bowen's last-minute goal secured the trophy for West Ham, their first since winning the FA Cup in 1980.
But the club's first silverware in a generation came at a cost; Hammers fan James, 25, from Coventry, will have a bit of grovelling to do ahead of his forthcoming nuptials.
He said: "I've told my missus that when I get back, that when I get married, that this is the best day of my life, and my second best day will be my wedding."
Tags