Brown lauds Celtics' unity as historic comeback beckons
Patric Ridge
Stats Perform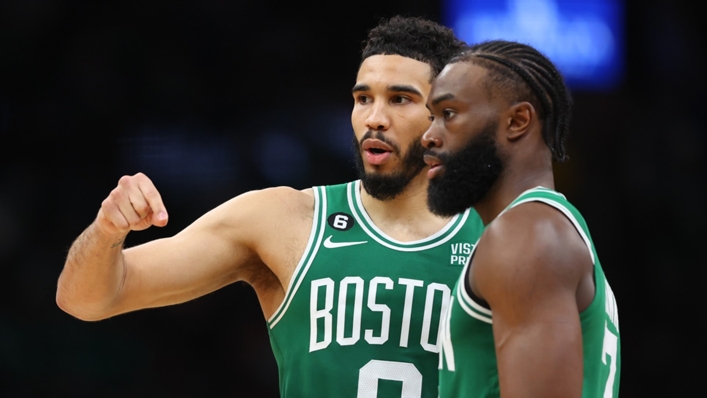 Jaylen Brown hailed the Boston Celtics' unity after they beat the Miami Heat 110-97 to force Game 6 in the Eastern Conference finals.
Having staved off elimination with a win in Game 4, the Celtics never trailed in Game 5 on Thursday as they cut Miami's lead to 3-2.
Boston will now aim to level the series in Miami on Saturday. Should they complete a remarkable turnaround, they will be the first team in NBA history to rally from a 3-0 deficit in a best-of-seven series, after 150 previous sides failed to do so.
Brown, who contributed 21 points to Celtics' total, explained the team could not have been at a lower ebb after losing the first three games of the series.
"Our back has been against the wall. Obviously, we didn't imagine being in this position, being down 3-0, but when adversity hits, you get to see what a team is really made of," he said.
"It couldn't get worse than being down 3-0, but we didn't look around, we didn't go in separate directions. We stayed together."
Only three teams have managed to take a series to Game 7 after losing the opening three games, the last of which was the Portland Trail Blazers in 2003.
"For some odd reason, even last year, we always seemed to make it a little bit tougher on ourselves," added Jayson Tatum, who had a double-double of 21 points and 11 assists.
"What I do know is that you can see the true character of a person, of a team, when things aren't going well, and our ability to come together, figure things out when it's not necessarily looking good for us.
"It's unlike any team I've been on this year and last year, just the core group of guys being able to respond.
"I think that's just a testament to our togetherness, obviously how bad we want it, and we've got a room full of determined, tough guys that push comes to shove, you look to the left and the right of you, believe that the guy next to you is going to do whatever it takes and go down fighting if it doesn't work out."
Looking ahead to Game 6, Brown is under no illusions of the scale of the task at hand.
"It's going to take everything," he said.
"It's going to be a dogfight. I imagine those guys will play better than they played tonight, and they're going to come out aggressive. We've got to be ready to take their punch at home. We've got to be ready to be resilient and come out and do what we're supposed to do."