Van Dijk hits back at Van Basten and Gullit criticism
Daniel Lewis
Stats Perform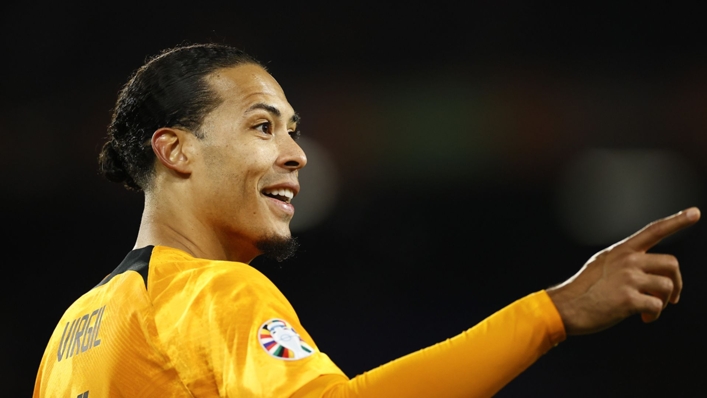 Virgil van Dijk accepts he has not been performing at his best level but says footballers "are not robots" after being strongly criticised by Marco van Basten and Ruud Gullit.
The Liverpool defender's captaincy credentials were questioned by Van Basten in particular following Friday's 4-0 Euro 2024 qualifying defeat to France.
Dutch great Van Basten accused Van Dijk of "making noise but not saying anything" and creating chaos that leads to misunderstandings" in the side.
Fellow former Netherlands international Gullit, speaking alongside Van Basten in his punditry role with Ziggo Sport, said Van Dijk "thinks he is better than the rest".
While Van Dijk is open to opinions, he does not believe the criticism is entirely justified.
"It is clear that we played badly. I am one of the experienced guys, so it is completely justified," he said following Monday's 3-0 win over Gibraltar.
"Everyone is allowed to have their own opinion these days, that's the case. Did I set the bar unrealistically high? I was never perfect.
"But we've had a lot of success with the team. Football players [Van Basten and Gullit] know that better than anyone, [players and teams] have high peaks and deep valleys.
"It's quite normal that you can't always play consistently. That you have a phase as a club or player where you are looking for your level. People should not forget that.
"It is normal that people make mistakes; it is part of football and that it is very human."
Van Dijk has also been far from his best in a Liverpool shirt this season, but he hopes to return to top form soon.
"You know better than anyone when you are doing something right or not," the 56-cap defender said. "These are difficult times at my club, with lots of ups and downs.
"I am very positive about the future and I try to play my best game ever in every game. We are not robots. Let's not forget that. Maybe people sometimes forget that."
Tags