VIDEO
Watch all the Champions League Matchday 6 highlights in one place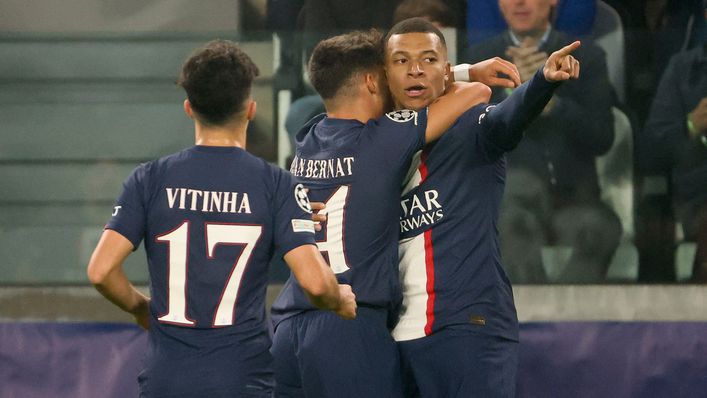 The Champions League group stage closed out with a thrilling finale as the 16 teams to progress to the knockout stage were confirmed.
Kylian Mbappe scored a stunner in a victory over Juventus last night but Paris Saint-Germain were pipped to top spot in Group H by Benfica, thanks to their 6-1 rout of Maccabi Haifa.
Real Madrid will also be seeded for the draw after thumping Celtic 5-1 to leave RB Leipzig falling short despite a four-goal triumph of their own.
On Tuesday, Tottenham clinched their place in the next phase with a comeback win at Marseille, which saw the French side miss out on Europa League qualification thanks to Pierre-Emile Hojbjerg's last-gasp winner.
Chelsea, Liverpool and Manchester City all won and will join Spurs in the last 16, with the Reds failing to earn a spot among the seeded teams despite beating in-form Napoli 2-0.
To catch up on all the highlights, scroll down to the game of your choice or watch them all at your leisure.
Liverpool 2-0 Napoli
Rangers 1-3 Ajax
Bayer Leverkusen 0-0 Club Brugge
Porto 2-1 Atletico Madrid
Bayern Munich 2-0 Inter Milan
Viktoria Plzen 2-4 Barcelona
Marseille 1-2 Tottenham
Sporting 1-2 Eintracht Frankfurt
Chelsea 2-1 Dinamo Zagreb
AC Milan 4-0 FC Salzburg
Real Madrid 5-1 Celtic
Shakhtar Donetsk 0-4 RB Leipzig
FC Copenhagen 1-1 Borussia Dortmund
Manchester City 3-1 Sevilla
Juventus 1-2 Paris Saint-Germain
Maccabi Haifa 1-6 Benfica
Tags